GADGETS :: June 2, 2021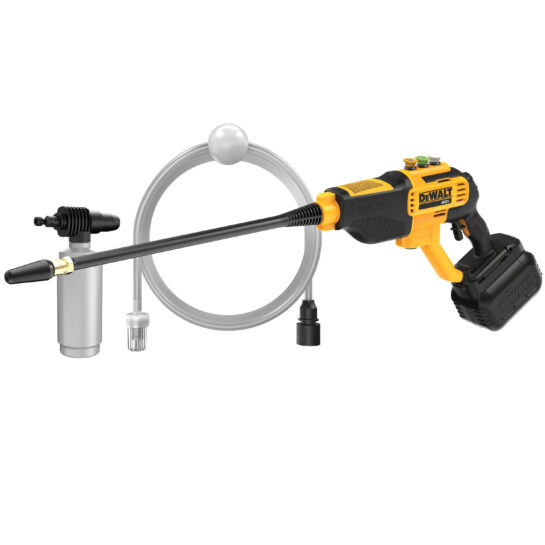 What was supposed to be an hour or two for testing turned into a successful 12-hour cleaning project with the Dewalt 20 V MAX 550 PSI power cleaner kit.
I've been a power washing fan for a year so now adding the portable outdoor cleaner gives me a full arsenal.  The 20V MAX 550 PSI power cleaner is an addition this spring to Dewalt's 20V MAX system, which includes over 200 other products in the rechargeable battery system.
The MAX 500 connects to your garden hose with a quick connect adaptor and delivers 10X the water pressure you'll get from the average garden hose alone. The connection is standard, straight from the hose to the power washer; just make sure the connection is tight and secure. 
Four quick-release connect nozzles, each producing a different degree of spraying, are included. They spray at 15, 25, and 40 degrees along with a turbo nozzle. An attachable soap bottle is included. The wider nozzles produce a gentler wash, while the narrower nozzles have a greater and more focused pressure.
For power, a rechargeable 20V MAX XR DCB205 Battery (5.0Ah) is included with a charger. Like any gadget that runs on portable batteries it's a good idea to get a second one. The battery connects to the power washer in a plastic watertight compartment. A storage bag is included.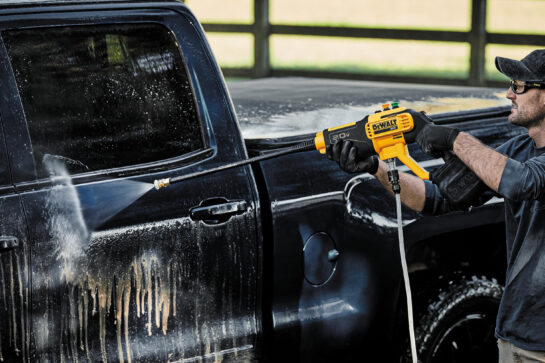 Initially, with the 550 PSI power cleaner, my thinking was this would be good for minor cleaning and projects a more powerful power washer can handle. Yes, it's great for the small things but with the portability, there's so much more you can do without having the pull anything around besides the attached garden hose.
My 12-hour cleaning mission took me from starting on my back patio to window moldings, gutters, and even taking spider webs off of shrubs. There were small cleaning stops here and there on stuff I'd never put 2400 PSI of water pressure on such as the sides of my pool, outdoor furniture, and car bumpers.
Water can also be drawn to the washer with the included suction hose for small projects. I used a five-gallon bucket for some simple tasks, which I can't emphasize enough how quick and easy this makes it compared to rolling out my bigger power washer. Obviously ,some serious power washing needs to be done like full driveways, etc., more PSI's are needed. But for quick, easy, and fast needs, this Dewalt Max 550 is the way to go.
The best compliment you can get after getting a new tool is your neighbors coming over and asking about it, followed by "where did you get that?"
www.dewalt.com $199 for the kit or $149 for just the power washer.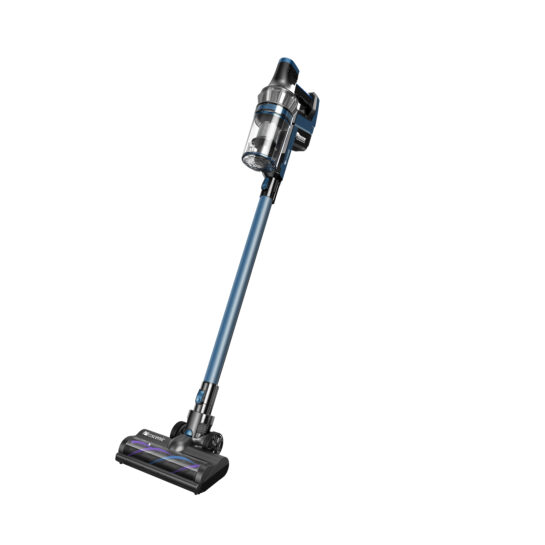 Just one hour with Proscenic's new P10 Pro cordless 4-in-1 vacuum cleaner shows how impressive and efficient vacuuming can be.
What makes it so versatile, along with its ultra-strong suction power of 25000pa, is the multi-functionality. In a second it switches from an upright vacuum cleaner to a handheld vacuum cleaner for floor-to-ceiling cleaning with the included attachments.
The attachments go on and off instantly for any surface, from hardwood, to carpet, furniture walls, and even ceilings. And since it's cordless, moving from room to room isn't hampered by an electrical cord. 
The flexible vacuum reaches everywhere at any angle with the ability to rotate 90 degrees upwards and downwards, and 180 degrees to left and right. This made every task I put up achievable. With V-boost technology, the P10 Pro will automatically detect carpets and adjust the suction.
You'll see the results in the basket after completion, which was full of dust, dirt, and  never-ending pet hair, which made the P10 Pro shine. Anyone with pets knows pet hair can drive you crazy and the versatility of this vacuum makes it's great. The mini motorized brush is the go-to attachment for capturing pet hair or any dirt/dust on pillows, blankets, and furniture. All areas were, up to now, difficult to clean.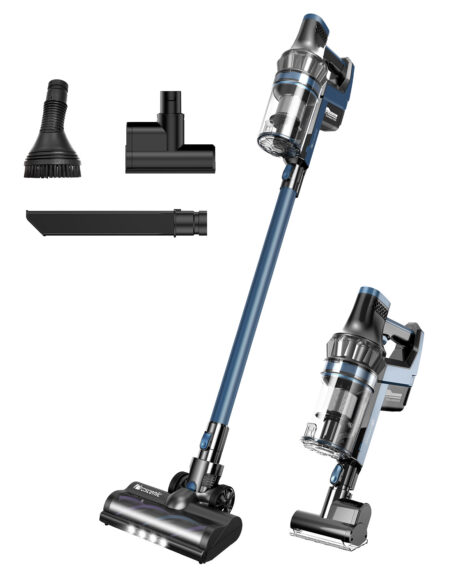 The long crevice nozzle is perfect for corners of furniture, in corners, under pillows, and other normally hard-to-reach areas.  And when vacuuming is completed inside, it turns into a handy mini-vacuum for cleaning the inside of a vehicle. 
The P10 Pro is built with three adjustable suction modes and cyclonic technology with an advanced Turbo 3.0 motor rotating with a high speed of 110000rpm, 260w power rating. With anti-tangle technology, longer pieces of hair won't tangle within the roller brush to ensure optimum performance at all times. The roller brush also has LED lights to illuminate darker areas needing cleaning.
Inside the P10 Pro is a long-life rechargeable battery, good for up to 55 minutes of runtime in min mode. Charging with the included AC cord is done with the removable battery in or out of the unit and is completed in 2.5 hours.
The P10 Pro will be the first cordless vacuum cleaner in my house and will get used regularly instead of being permanently buried in a closet.
www.proscenic.com $178
GADGETS by Gregg Ellman (@greggellman)