Fujifilm Announces Partnership with Buffalo-based Center for Exploratory and Perceptual Arts – "Art as an Essential Facet of Life and Community"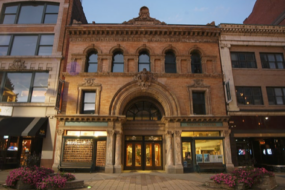 Valhalla, N.Y., June 10, 2021 – FUJIFILM North America Corporation is pleased to announce the creation of the "FUJIFILM Foundations of Creation" program, born out of a creative alliance with the Buffalo, N.Y.-based Center for Exploratory and Perceptual Arts (CEPA), a globally recognized incubator of artistic talent whose programs drive engagement with art as an essential facet of life and community. The FUJIFILM Foundations of Creation program will provide mentorship and real-world content creation assistance to creators in the Buffalo area. 
Established in 1974, CEPA's mission is to foster the exploration of photography and contemporary visual art to nurture creativity and to encourage active learning. CEPA executes this mission through exhibitions of world-renowned art by diverse underrepresented artists and award-winning educational programming that is outcome-based and community driven. 
The FUJIFILM Foundations of Creation program with CEPA will provide three selected program "fellows" in Western New York with significant opportunities to learn about content creation directly from Fujifilm professionals, as well as a comprehensive understanding of arts management, professional networking, and marketing from the experts at CEPA. 
"CEPA's educational initiatives for experiential learning in photography and art provide critical mentorship to underrepresented youth, and we're thrilled to be a part of that," said Victor Ha, senior director of marketing and product management for the Electronic Imaging Division, FUJIFILM North America Corporation. "These sorts of programs are critical to the future of photography and artistic expression." 
"Having benefited from the career-building opportunities offered at CEPA as a young immigrant fresh out of art school, I cannot be prouder to see this partnership come to life," said Veronique Cote, executive director, CEPA. "The FUJIFILM Foundations of Creation program will not only allow CEPA to grow young peoples' interest in the use of photography as a catalyst for change in our community, but also directly fuel the diversity pipeline in the arts for future generations." 
The program will culminate in a final exhibition of the selected fellows' work displayed on bus shelters throughout the greater Buffalo area. The application deadline is July 1, and the program is set to begin in mid-to-late July. To learn more about CEPA or to apply for a 
FUJIFILM Foundations of Creation program fellowship, visit https://www.cepagallery.org/fellowship-program/. 
About Fujifilm 
FUJIFILM North America Corporation, a marketing subsidiary of FUJIFILM Holdings America Corporation, consists of five operating divisions and one subsidiary company. The Imaging Division provides consumer and commercial photographic products and services, including: photographic paper; digital printing equipment, along with service and support; personalized photo products; film; one-time-use cameras; and the popular INSTAX®line of instant cameras and accessories. The Electronic Imaging Division markets consumer digital cameras, lenses, and content creation solutions, and the Graphic Systems Division supplies products and services to the graphic printing industry. The Optical Devices Division provides optical lenses for the broadcast, cinematography, closed circuit television, videography and industrial markets, and also markets binoculars and other optical imaging solutions. The Industrial and Corporate New Business Development Division delivers new products derived from Fujifilm's technologies. FUJIFILM Canada Inc. sells and markets a range of FUJIFILM products and services in Canada. 
For more information, please visit https://www.fujifilm.com/us/en/about/region, go to https://www.twitter.com/fujifilmus to follow Fujifilm on Twitter, or go to https://www.facebook.com/FujifilmNorthAmerica to Like Fujifilm on Facebook. 
FUJIFILM Holdings Corporation, Tokyo, Japan, brings cutting edge solutions to a broad range of global industries by leveraging its depth of knowledge and fundamental technologies developed in its relentless pursuit of innovation. Its proprietary core technologies contribute to the various fields including healthcare, highly functional materials, document solutions and imaging products. These products and services are based on its extensive portfolio of chemical, mechanical, optical, electronic and imaging technologies. For the year ended March 31, 2021, the company had global revenues of $21 billion, at an exchange rate of 106 yen to the dollar. Fujifilm is committed to responsible environmental stewardship and good corporate citizenship. For more information, please visit: https://www.fujifilmholdings.com. 
### 
FUJIFILM is a trademark of FUJIFILM Corporation and its affiliates. 
© 2021 FUJIFILM North America Corporation. All rights reserved.