Fujifilm Announces FUJINON XF33mmF1.4 R LM WR Lens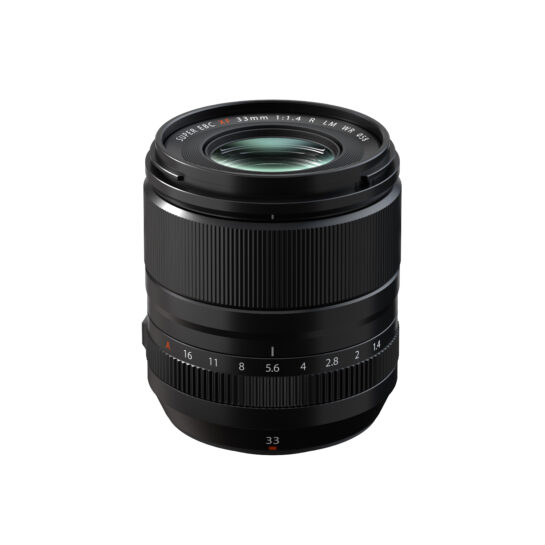 Valhalla, N.Y., September 2, 2021 – FUJIFILM North America Corporation is pleased to announce the introduction of FUJINON XF33mmF1.4 R LM WR lens (XF33mmF1.4), a new addition to the lineup of interchangeable XF lenses designed for the FUJIFILM X Series of mirrorless digital cameras. 
"XF33mmF1.4 is a new-generation, large-aperture prime lens that delivers exceptional image sharpness," said Victor Ha, senior director of marketing and product development for FUJIFILM North America Corporation, Electronic Imaging Division. "Its high-resolution capability is coupled with exceptional autofocus (AF) performance that delivers fast and high accuracy in both stills and video." 
The lens's durable design accommodates a variety of photographic conditions alongside the other FUJINON F1.4 prime lenses, namely the FUJINON XF18mmF1.4 R LM WR and FUJINON XF23mmF1.4 R LM WR. 
Product features: 
Exceptional image sharpness even at the maximum aperture 
● XF33mmF1.4 lens consists of 15 elements, including two aspherical elements and three extra-low dispersion (ED) elements in 10 groups to effectively minimize chromatic aberration and spherical aberration, delivering edge-to-edge sharpness even when wide open. The focusing group in the middle includes two ED elements and one aspherical element to reduce fluctuation of aberration caused by the movements of focusing elements, securing superior image quality across all focusing ranges from close-up to very distant. 
● Boasting the maximum aperture of F1.4, XF33mmF1.4 lens allows users to produce high-quality pictures with minimal camera shake and digital noise even in low-light conditions such as poorly-lit indoor spaces and nightscapes. At F1.4, the lens provides a shallow depth-of-field to render background out-of-focus for creamy bokeh, adding a clear contrast and three-dimensional definitions to the sharply-focused main subject on the focal plane. Chromatic aberration is also well-controlled to capture small light sources as round points, avoiding color casts in the background in bokeh. The use of 9 aperture blades ensures nearly round shape bokeh, even around the maximum aperture. 
Standard focal length and broad shooting range 
● XF33mmF1.4 offers the most popular and standard focal length of 33mm (equivalent to 50mm in the 35mm film format). The focal length provides the angle of view very close to that of the human eye, creating a natural-looking perspective. It covers a wide range of photographic situations from portraiture to snapshots and landscape photography. The broad shooting range is also complemented by its advanced close-up capability with the minimal working distance of just 11.8 inches (30cm) and the maximum magnification of 0.15x. 
Silent, fast and highly-accurate AF 
● XF33mmF1.4's AF system is driven with a linear motor, resulting in near-silent, fast and highly-accurate AF. The AF is achieved with the Inner Focus system, which keeps the range of movements for the focusing lens group small while precisely controlling the amount of focusing required within the range. The focus 
is attained in as fast as .04 seconds, ensuring that users do not miss a decisive photo opportunity.*1 
● The use of the linear motor for fast and precise AF means the focus can be maintained accurately even in the AF-C mode, mainly used in video recording. In addition, the lens is optically designed to minimize changes in the angle of view, caused by focus breathing, making it an ideal choice for full-fledged video production. 
Advanced mobility based on compact, lightweight and rugged construction 
● XF33mmF1.4 is compact and lightweight, weighing approx. 13 ounces (360g) and measuring 2.89 inches (73.5mm) long with the filter thread size of 58mm. The external diameter of the focusing lens group is kept small to accommodate a linear motor, achieving a slim, stylish design. 
● The lens barrel is weather-resistant at 11 locations against dust and moisture, and can be used with weather-resistant X Series digital cameras at temperatures as low as 14°F (-10°C), for reliable performance in most adverse weather conditions. 
● The focus ring has a unique control resolution, especially during manual focusing at a shallow depth-of-field. The gear pitch inside the focus ring is carefully designed for advanced movement detection capability, enabling linear focusing that responds precisely to the subtlest of fingertip movements. 
● The A (auto) Position Lock offers reliable operation, locking the aperture ring in place to avoid any unintentional adjustment during image creation. 
XF33mmF1.4 is currently expected to be available in late October, 2021, at a manufacturer's suggested retail price of $799.95 USD ($1,000 CDN). Additionally, the LH-XF23 II lens hood, designed to fit both the XF33mmF1.4 and XF23mmF1.4 lenses, will be offered as an optional accessory, at a manufacturer's suggested retail price of $69 USD ($80 CDN). For more information, visit https://fujifilm-x.com/en-us/products/lenses/xf33mmf14-r-lm-wr/. 
*1 When mounted on the mirrorless digital camera "FUJIFILM X-T4" with Phase Detection AF activated and the High Performance Mode turned ON. 
About Fujifilm 
FUJIFILM North America Corporation, a marketing subsidiary of FUJIFILM Holdings America Corporation, consists of five operating divisions and one subsidiary company. The Imaging Division provides consumer and commercial photographic products and services, including: photographic paper; digital printing equipment, along with service and support; personalized photo products; film; one-time-use cameras; and the popular INSTAX ™ line of instant cameras and accessories. The Electronic Imaging Division markets consumer digital cameras, lenses, and content creation solutions, and the Graphic Systems Division supplies products and services to the graphic printing industry. The Optical Devices Division provides optical lenses for the broadcast, cinematography, closed circuit television, videography and industrial markets, and also markets binoculars and other optical imaging solutions. The Industrial and Corporate New Business Development Division delivers new products derived from FUJIFILM Corporation technologies. FUJIFILM Canada Inc. sells and markets a range of FUJIFILM products and services in Canada. 
For more information, please visit https://www.fujifilm.com/us/en/about/region, go to www.twitter.com/fujifilmus to follow Fujifilm on Twitter, or go to www.facebook.com/FujifilmNorthAmerica to Like Fujifilm on Facebook. 
FUJIFILM Holdings Corporation, Tokyo, Japan, brings cutting edge solutions to a broad range of global industries by leveraging its depth of knowledge and fundamental technologies developed in its relentless pursuit of innovation. Its proprietary core technologies contribute to the various fields including healthcare, highly functional materials, document solutions and imaging products. These products and services are based on its extensive portfolio of chemical, mechanical, optical, electronic and imaging technologies. For the year ended March 31, 2021, the company had global revenues of $21 billion, at an exchange rate of 106 yen to the dollar. Fujifilm is committed to responsible environmental stewardship and good corporate citizenship. For more information, please visit: www.fujifilmholdings.com 
###