Create Silky Smooth Hollywood-Quality Gimbal Shots with the ZHIYUN SMOOTH 5 and SMOOTH X2
Next-generation cameras on smartphones allow for Hollywood quality video. Now, it's time to get a gimbal that can match
SHENZHEN, China, November 15th, 2021 – ZHIYUN, the world's leading tech company of professional camera stabilization systems, is proud to announce the release of the ZHIYUN SMOOTH 5 and SMOOTH X2 which put a Hollywood quality gimbal in the hands of mobile filmmakers.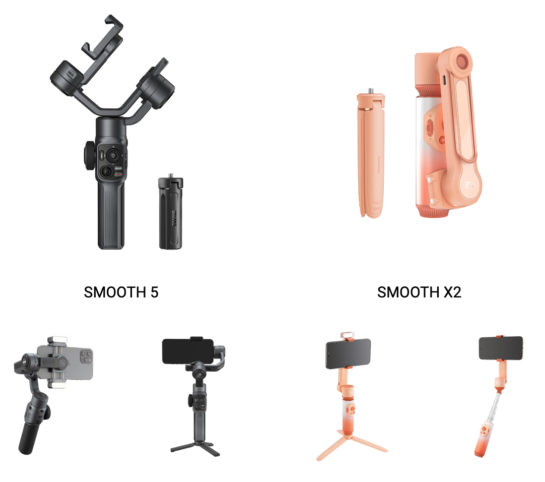 A follow-up to the award winning SMOOTH 4, which won the prestigious Good Design Award in 2018, and the SMOOTH X, the SMOOTH 5 and SMOOTH X2 allow smartphone content creators to film like a pro and shine in every way so they can create their best work yet. Compatible with both Android and iOS, the SMOOTH 5 and the SMOOTH X2 have new, revolutionary features that bring the quality of Hollywood to everyone's mobile devices.
The SMOOTH 5 has dimensions of 311*108*52mm while the SMOOTH X2 has dimensions of 71*56*160mm.
"The quality of smartphone cameras is beginning to rival their Hollywood counterparts and mobile filmmakers are demanding more," said ZHIYUN's product director. With the SMOOTH 5 anyone can now film like a pro while the SMOOTH X2 allows mobile filmmakers to shine in every way."
SMOOTH 5 Feature Highlights
1. Design – Upgraded motor performance and algorithm
• The SMOOTH 5 has a smaller size than its predecessor but much stronger performance thanks to an upgraded motor performance and algorithm. The industry-standard 3-axis design allows movements in all angles to be amazingly smooth, even in extreme angles.
• This makes it easy to shoot in all angles switching seamlessly from portrait to landscape mode, and it mounts easily on the phones favored by mobile filmmakers like the iPhone 13 Pro MAX, Xiaomi Mi Mix Fold, Huawei Mate X2, and the Samsung Galaxy S21 Ultra thanks to its smart lock design.
2. Easy to use control panel – Point, click, and shoot
• Users will feel at ease thanks to the all-in-one control panel that allows them to adjust many features with only one hand without the trouble of using an app. There's also a multifunctional control wheel that gives users perfect control over zooming and focusing.
3. Creative Functions – Next-generation tools for the mobile creative genius
• With the SMOOTH 5, mobile filmmakers can reach their creative peak. Some of the creative features included in the SMOOTH 5 are Magical Pano, allowing for a magnificent view in your smartphone with 180° panorama, Timelapse, where you can watch the time go by at a quicker pace to experience scenes that are used to take a longer time., and Live Stream Master, which allows for face tracking for the perfect live stream experience. Other features include SmartFollow, which automatically tracks a designated person or object, Dolly Zoom, which mimicks a Hollywood style dolly shot without the expensive equipment, and MagicClone which allows you to clone yourself and to appear in multiple parts of a scene.
4. Fill light – Light up every scene with Hollywood quality lumens
• The SMOOTH 5 comes with a magnetic fill light that shines at 580 lumens, allowing for any scene to be perfectly lit thanks to the stepless dimming control. It also comes with color filters and can be attached to either side of the smartphone.
5. Smart Editor- Make Hollywood Magic with a few clicks
• During the editing process the raw footage becomes the masterwork. The SMOOTH 5 has an entire smart editing suite that allows for mobile filmmakers to do their best work yet. The ZY Cami Editor means you can wow your viewers with your work of art thanks to the ability to reverse the clip and edit it while adding filters, stickers, subtitles and background music.
• With the SMART Mode, filmmakers can pre-program the gimbal and achieve creative perfection thanks to dozens of video templates including amazing special effects and music.
SMOOTH X2 Feature Highlights
1. Design: Next Generation Design for Mobile Creatives
• New from ZHIYUN, meet the stylish and powerful SMOOTH-X2. The SMOOTH-X2 gives you the most comfortable experience thanks to all-new materials. It has a high quality build and exterior with a unique painting technique featuring exquisite polishing, sandblasting, and gradient painting and is available in twilight orange and ink black. With a frictionless, one-step move from opening up the package to shooting, and an innovative 360° rotatable design of the axis, making silky smooth Hollywood quality video with the SMOOTH-X2 has never been easier.
2. More than Just a Gimbal – Mobile Movie Magic
• The SMOOTH X2 has many special features which make it more than a gimbal versatile and powerful, meeting everything your imagination could ask for on a versatile Vlogging setup. The unique reversible latch allows the gimbal to be locked and turned into a solid tripod within a split of second and SMOOTH X2 is brand new design from SMOOTH X. Weighing only 300g, and with high-torque magnetic steel motors, the SMOOTH X2 will allow you to have a vlogging experience like never before shooting at every angle for creative perfection. Just rotate, pull, and shoot.
3. Accelerate Your Creativity Without Breaking the Bank
• Some of the most memorable shots in Hollywood history have been made with gimbals, but these high end devices are out of the budget of many mobile filmmakers. Now, using a gimbal becomes much easier with the brand new two-way rotation design. Have fun with multiple smart features and artistic flashing lights to make your movie rich with cinematic color and something nobody will ever forget. Make your cinematic masterpiece with the SMOOTH X2!
4. Shine in Every Way and Light Every Scene
• The SMOOTH X2 has a lighter but stronger phone clamp with a foldable design, which comes with magnetic contact points for attaching fill lights. Four brightness levels available with various color filters at your choice to provide different lighting in different situations, no matter if the gimbal is powered on or in standby mode. You can always use it for your diverse style of shooting and create your next masterpiece.
Pricing and Availability
Click here to be a part of mobile cinematic history by joining the pre-sale viaAmazon or ZHIYUN's online store.
The SMOOTH 5 is available for $169, or with a combo that includes a tripod, carrying case, and magnetic fill light as well as a VIP membership card all for $219.
The SMOOTH X2 is available for $119 or in a combo with that includes a tripod, carrying case, and magnetic fill light as well as a VIP membership card all for $149
Read more information at the ZHIYUN site and YouTube.
About ZHIYUN
ZHIYUN Tech is a pioneer and a world leader in gimbals and stabilizers for both professional filmmakers and personal video creators. ZHIYUN believes in innovation as the primary productive force, keeps making breakthroughs, and pushes forward technological and industrial development. Its product line ranges from professional to consumer gimbals. ZHIYUN is dedicated to arduous research and innovation for delivering a better experience for global filmmakers and video content creators. Learn more about ZHIYUN Tech at www.ZHIYUN-tech.com or check us out on Facebook: @ZHIYUNGlobal or follow us on Instagram: @ZHIYUN_Tech