Grab Your Gear – August 2021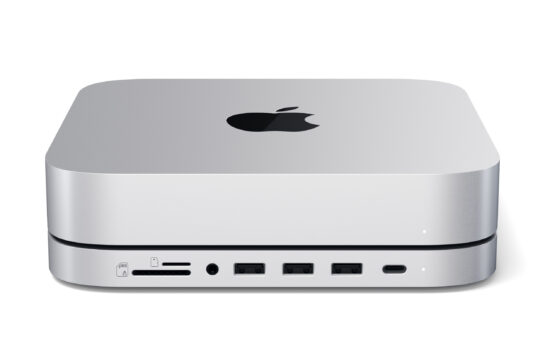 If you own an Apple Mac Mini M1 desktop computer, Satechi's new Stand Hub with SSD Enclosure is a must-have.
The all-in-one hub does exactly what Satechi sets out for it to do, make everyday life more convenient by acting as a computer stand and a hub. It connects to the computer with a single USB-C connection via a built-in 5.4-inch cable from the back to plug into one of the mini's USB-C slots. There's no need for any other power supply.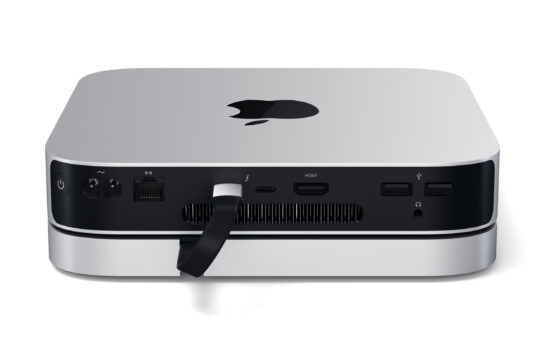 The Satechi Stand Hub mirrors the Mac Mini in design with its brushed silver aluminum alloy finish. Measuring 7.8-by-7.8-by-0.9-inches, it sits perfectly under the Apple Mac Mini M1 computer with a top side platform that is raised to provide a space to allow heat and air to ventilate, preventing overheating. Four rubber feet sit on the bottom to keep the hub raised off the desktop.
Seven easy-access hubs are built into the front, which includes a single USB-C port, three USB-A data transfer ports (up to 5 GBPS), SD and microSD memory card readers, and a 3.5mm headphone jack. The USB ports are for syncing and data transfer, not charging.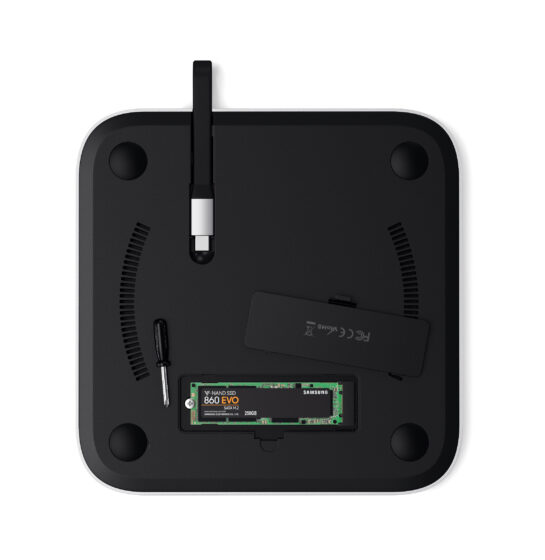 But what makes this stand out is the bottom side SSD enclosure where you can add your SSD drive (M.2 SATA SSD) for storage expansion or a perfect Time Machine. Inside SSD the storage compartment is a small screwdriver and screw to assist with the simple installation.
The Satechi site lists compatible SSD drives, which have been tested to work with the hub and include specifics from Kingston, Samsung, Western Digital, and Adata.
https://satechi.net $99.99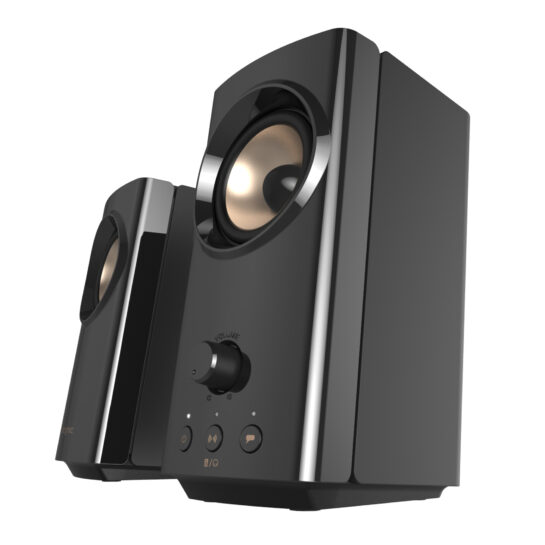 Creatives T60 desktop speakers impressed me in every aspect. The speaker pair are filled with features for use as a sound system with digital, analog, and wireless connections and functionality for the work from the home office environment.
The sound the Creatives T60 produces is impressive and just as impressive is the $79.99 price. Built into the compact Hi-Fi desktop speakers (left 5.79-by-3.62-by-7.84 inches, right 6.18-by-3.62-by-7.84 inches) is audio technology featuring Clear Dialog and Surround, which are powered by Sound Blaster's audio expertise.
From the Creative site, Clear Dialog extracts the vocals and spoken dialog through an audio processing technique, then intelligently enhances and amplifies them, allowing you to hear each syllable clearly, and without compromising on the other ambient effects. Surround identifies and enhances the spatial information of incoming audio via Sound Blaster's audio filters. The technology optimizes the listening experience for both two-channel and multi-channel source content resulting in a realistic listening experience.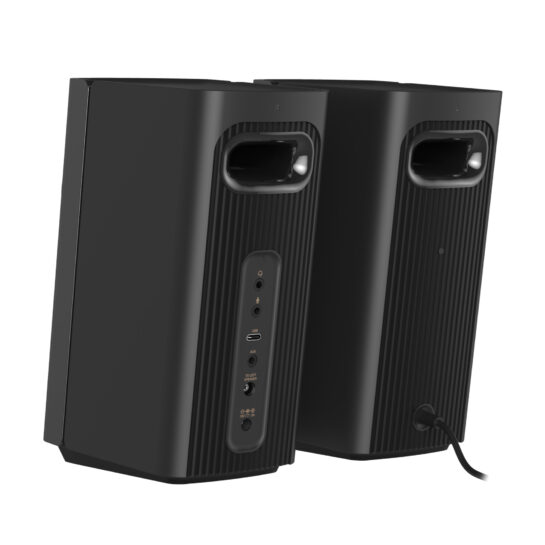 Using the speakers from a laptop, stereo receiver, and streaming via Bluetooth all produced great sound. The speakers have high volume levels, way more than my ears can take. The sound is well balanced and the choices are there for having it fit your taste of the right mix of treble and bass.
Inside each speaker is a 2.75-inch full-range driver (frequency response 50–20,000 Hz) along with a built-in digital amplifier. Creatives BasXPort technology allows the sound the right amount of bass without having a subwoofer.
Desktop speakers have been around forever, but what has changed is how it's connected. The Creatives T60's can be connected wirelessly with Bluetooth 5.0 or USB- C for digital audio, which both worked perfectly in my review unit. Other ports for the AC-powered speakers include a 3.5mm aux-in (analog), a 3.5mm headphone port, and a 3.5mm port for plugging in an external microphone for communicating during meetings.
A 6.56-foot wire connects the pair of speakers, with the controls on one speaker used for controlling both. Front-facing buttons are used for power, volume, audio sound technologies, and switching between audio or your headset.
A SmartComms Kit with the Creative app with Windows 10 users (version 1703 and above) and feature auto-mute and two-way noise cancellation. An AC adapter and audio connection cables are included.
by Michael Phillips