Posts Tagged 'Dr. Karl Lamprecht'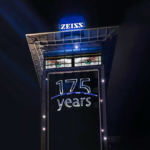 Tweet ZEISS ran a virtual celebration to mark its 175th anniversary at its founding site in Jena. German Federal President Frank-Walter Steinmeier said: "Its interplay of entrepreneurial spirit, drive to research, and inventiveness make the ZEISS Group a pioneer...
Read more
Tweet To mark its 175th anniversary, ZEISS has donated five million euros to the future initiative for modernizing the Deutsches Museum in Munich.   The close partnership has been sealed by signing the founding members' certificate. The German Optical...
Read more