Posts Tagged 'Leica camera'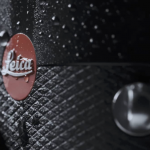 Tweet Leica Camera AG presents the Leica Q2 – the next-generation model of the Leica Q line of cameras. With a newly developed full-frame sensor, a fast Leica Summilux 28 mm f/1.7 ASPH. prime lens, fast autofocus and innovative...
Read more
Tweet Italian photojournalist, Gabriele Micalizzi, would not be here today if it weren't for quick thinking and his Leica camera. Discover more to this interesting story how his camera took on an RPG (rocket propelled grenade.) Read More… (Source:...
Read more