Gadgets :: April 24, 2019
by Gregg Ellman
(@greggellman)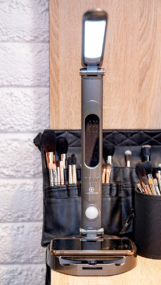 The LumiCharge II is coming to a desk near you, 
After a successful crowdfunding campaign on Indiegogo, the multifunctional LED desk lamp charging station has launched and is available for purchase with a June delivery.
Even if you're one of the few who has a clutter-free desk, you'll still enjoy the lamp's benefits and features. And if you're like me with endless clutter, this makes a big dent in getting a few things organized and cleaned up.
LumiCharge gives it an accurate reference as the "Swiss army knife" of smart desk lamps. If you've used one of those knifes, you'll understand the versatility of the lamp, which is far from just a lamp.
It is a lamp and if you use it for just that, it's perfect with 10 levels of lighting brightness and 3 LED light colors — all from energy-efficient low-heat LED bulbs. A motion sensor night light will detect movement in the dark and give you a soft light to find our way around.
A feature of the modern-looking device that shows off its functionality and caught my eye is the wireless charging area.  The base of the lamp is a Qi wireless fast-charging pad so assuming you have a Qi charging phone, just place it on the base and it charges. Androids, iPhones or any other Qi-enabled phone will work.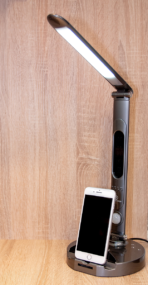 A built-in universal charging dock spins around to expose Lightning, USB-C, Micro USB charging ports to dock and charge non-wireless devices. Only one of those connections can be used a time, since the dial exposes the one you're using while the others will be turned away. But there is an extra USB port to connect your own charging cable for an additional device.
Both the wireless and dock charging features are built to be case friendly.
A smart LED dimmable display on the arm of the lamp essentially turns the lamp into an information center with the date, day of the week, temperature and time. A built-in alarm clock can also be set for alerts and appointments.
This will reset the standard for desktop functionality. And clear some space. After the crowdfunding campaign is over, the LumiCharge II will be $159 and available in black, silver and white.
https://thelumicharge.com/products/lumicharge-ii-prelaunch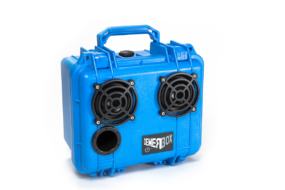 The tough looking DemerBox is a great sounding Bluetooth sound system built into a Pelcian Case and 100 percent waterproof.
Inside the box is a pair of 3-inch, 8ohm, aluminum cone with rubber surround drivers, resulting in loud, clear sound, which is sure enough to be the life of the party.
Other features include a 50-hour battery life, which is recharged with the included AC adapter. With the internal USB charger, you can keep your phone or other devices charged up as well.
The Pelican outcast case is as durable as a case can be. Pelican is know for making the most durable with military grade standards, resulting in a case that is pretty much destructible. DemerBox incorporates a port plug, which makes the waterproof seal.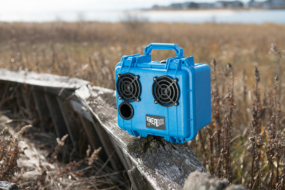 Measuring just 10.62-by-9.68-by-6.87-inches with a 5.44 pound weight, it's easy to see the portability. And while other speakers are waterproof, having the speakers built into the durable pelican case makes it a perfect combination.
Along with the speakers, there is a small amount of storage room for phones, wallets and keys to keep them safe and dry while your on the water. 
Bluetooth will have a 100-foot range from your media source, so keep in mind while the DemerBox is waterproof, in most cases what you're using to send the music is not. But you can always store your music inside the case.
https://demerbox.com $349, available in royal blue, matte black, orange and yellow
storage