Bob Shell's New Book :: Cosmic Dance / Photographer Publishes Book from Prison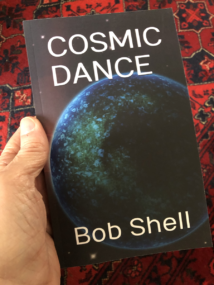 Robert "Bob" Shell is a name well known to those of us who have been in the photographic industry. Bob was, in fact, the former editor for Shutterbug magazine, until around 2003. Unfortunately, Bob was convicted of involuntary manslaughter due to the death of one of his models. His sentence was for over 30 years. Now after serving 11 years in prison Bob's latest book, Cosmic Dance has been self-published.
Cosmic Dance is the product of twelve years of ideas written down in notebooks. He always thought he would have to wait until he was released in order to get it published. Thankfully, he made contact with someone on the inside who directed him to a publisher of prisoner books.
Imaging Insider asks readers to consider supporting Bob Shell by purchasing a copy of his book as he remains incarcerated. Every sale provides a path of hope in all endeavors to get Bob released as he enters into the age of 70+.
Cosmic Dance is a biologist's reflections on space, time, reality, evolution, and the nature of consciousness. We're proud to say we purchased our own copy and it has arrived. With Amazon you can get a preview of what's inside.
CONTENTS
I. PHYSICS AND COSMOLOGY
II.BIOLOGY AND EVOLUTION
III. THE UFO PHENOMENON
IV. RELIGION: "CHRISTIANITY"
V. APPENDICES
---
The price is $12.95 for paperback and $5.99 for Kindle.
Paperback: 217 pages
Publisher: Independently published (March 9, 2019)
Language: English
ISBN-10: 1799224740
ISBN-13: 978-1799224747
Product Dimensions: 5 x 0.6 x 8 inches
 BUY/PREVIEW :: You can read part of it as well as purchase Cosmic Dance on Amazon.
---
More information about Bob Shell is available at Wikipedia and Bob Shell Truth.