Gadgets :: June 19, 2019
by Gregg Ellman
(@greggellman)
Winter, summer, spring or fall, morning, noon or night. That's just a sampling of when the new Honeywell Home T9 thermostats with room sensors are useful.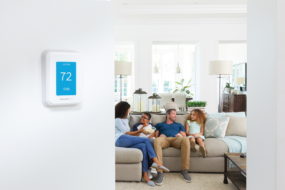 Honeywell gave me a demonstration of the system at the Consumer Electronics Show earlier this year. Instantly I knew for me these were a fit; the sensor was perfect for my house. And Honeywell representatives stressed how easy the installation is.
Like most homes, one of my thermostats is in a convenient centralized hallway and works great there. But what doesn't work great is getting a consistent temperature in other parts of the house where that thermostat is in control but no where close to the room.
Sensors are placed in rooms that need more temperature control. During setup, interactions will walk you through a simple process for all your sensors and how they are controlled. 
First for the installation, I did it myself. I'm not a licensed AC repairman, plumber, electrician or anything else close. Nor do I do that type of work often. But I can read instructions, take a picture of the existing thermostats wiring and then follow colors, numbers and instructions to hook up a new one.  
For those who are a little more advanced, the instructions explain what to do if your system does not have a C-wire. My system already had one connected, but others without will need a C-wire adapter, which is also simple to install.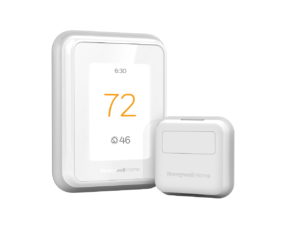 From start to finish this took less than 15 minutes, including marking and drilling holes for the included hardware to hang the wiring plate, filling the older holes to cover up the previous rounded thermostat and then snapping the new wiring plate and the display together.
And importantly, as instructed, I had the circuit for the power to this area of my house shut off before the installation began.
When I felt the installation was complete I called Honeywell tech support line, mainly to confirm my insecurity with the installation before I started the power back up. He confirmed everything was right and my house started to cool off right away.
Instantly after the T9 was powered up, on screen instructions walked me through a few steps to connect the T9 to my existing Wi-Fi system and smartphone. With the connection, the rectangular-shaped thermostat display and settings are controlled from the display or on your smartphone or tablet with the free accompanying Honeywell app. 
While it's easy to set up schedules for when the air is on or off along with automatic settings, your schedule does change. For example, if your AC is supposed to go on to cool the house at 5 p.m. as the family begins to arrive home and plans change where no one will now be home til 11 p.m., it takes just a second to turn on the app and override the schedule. Now you're saving money by not cooling an empty house.
Weekly or daily schedules can be made with specific hours, rooms, times and temperatures. Email notifications can be set up to alert you when it the system or even a specific room (think baby's room) reaches a specific high or low temperature.
The system allows up to 20 sensors to be connected per thermostat. In the settings you have your choice of having the temperature entirely controlled by a sensor, have it averaged out or even have a sensor turned on with motion. It's your choice to prioritize what you want and what's most important. There's no limit how often the settings and controls can be changed.
A pair of AA batteries and 3M tape is included for installing and powering the sensors.
Geofencing is another great feature. When you have it activated the system will know when you're home or away. When returning to your home with geofencing the thermostat will sense your smartphone is within a certain radius and turn the heat or AC on. In reverse, it knows when you leave the area to turn the down to a specific energy target.
The Honeywell Home T9 works with Alexa and Google Assistant voice assistants  along with IFTTT and Samsung SmartThings.
www.honeywellhome.com Honeywell Home T9 Wi-Fi Smart Thermostat with 1 Smart Room Sensor $199, Single T9 Smart Sensor $39.99 each or a two pack for $74.99