Posts Tagged 'Alexa'
Tweet The Proscenic A9 Air Purifier is one of those appliances you don't think you need, but you do. Having clean, filtered, and allergy-free air is nothing but a good thing. The A9 is built with multiple filtration systems...
Read more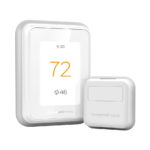 Tweet by Gregg Ellman (@greggellman) Winter, summer, spring or fall, morning, noon or night. That's just a sampling of when the new Honeywell Home T9 thermostats with room sensors are useful. Honeywell gave me a demonstration of the system...
Read more