Gadgets :: July 31, 2019
by Gregg Ellman
(@greggellman)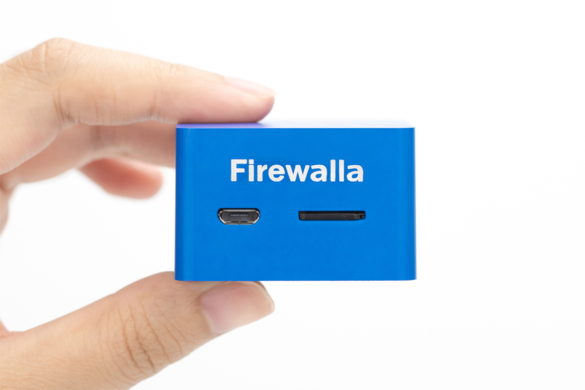 A representative from Firewalla introduced the cyber security firewall home device to me perfectly when she said: "You'd have to be living under a rock these days to not be aware of the data breaches that occur on a regular basis." 
This is so true and for the most part, any and all help we can get for cyber security and internet control is welcome. Never lose sight that all your digital information is invisible, and will not be caught by security cameras or window sensors.
The Firewalla is a small home device (1.2-by-1.2-by-1-inch) designed to set up a security barrier around your home network. It plugs into your existing router to monitor all devices, including smartphones, tablets, computers, smart home devices (think blocking outside access to your security cameras). 
The setup can be a simple plug-and-play device, but to access more advanced settings you don't have to be an advanced IT specialist. There's also no paid subscription service.
I loved Firewalla's invitation to bring back traditional family time, internet-free, social media-free. This is as easy as a tap of a button for the Firewalla social hour, which blocks all major social networks for one hour. 
Apps (iOS and Android) monitor the activity you choose. Setting it up can be easy; much of what you'll want it to do along with setting up a firewall around your network is done automatically.
I found the setup to be addicting in a fun way. Firewalla enables you to see who's on your system and sites being visited and which shouldn't be, such as gaming, gambling or porn with full customization for website blocking. There's also a built-in VPN server for access when your away from home.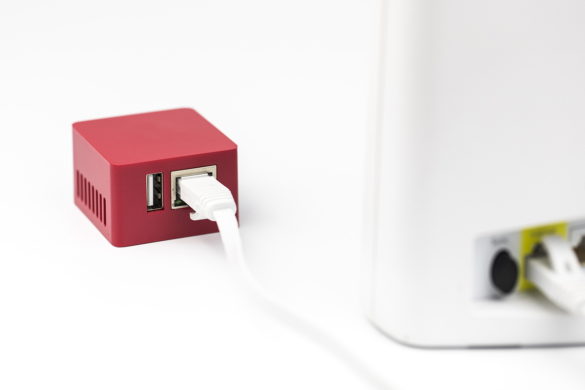 As mentioned, the setup takes a little time, especially depending on any advanced settings you want. The online Firewalla installation guide is well-written in an easy-to-understand language for basic operation settings as well as customized controls.
Once you know what you want blocked, rules can be set up to completely block the sites or limit the access with the domain/IP, web address, specific internet access, or even cut off all internet access.
Alarm and app notifications can easily be set up for big situations such as possible cyber attacks or as small as a video game being played on the network. Much of what the device does is what you want it to do.
Every home and small business should have a Firewalla. It works that well.
https://firewalla.com $108 for FIrewalla Red, $179 for Firewalla Blue, which has more processing speed (500 mb vs 100 for the Red), double the CPU and twice the RAM (1024 vs 512)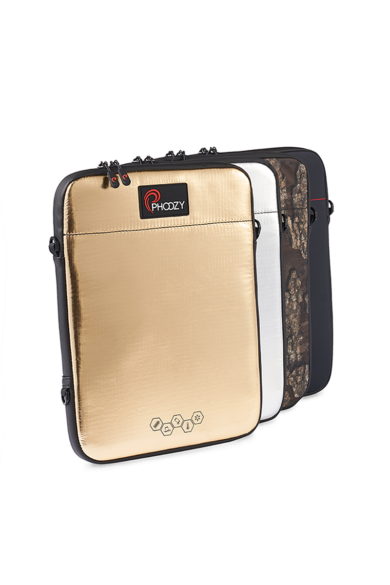 If you're like me you have an iPad, Galaxy Tab, Google Chromebook or one of many other tablets this size, which often does all you need on a non-work trip but you tug it along in a big bulky backpack just because that's what you've always done.
Well, I'll give you something to make a switch, which even incorporates spacesuit technology. The Phoozy is touted on its website as the World's first sleeve that protects against everything.
They added a list, which includes defense against heat, cold, water, and those dreaded "oops" moments that come your way day after day.
No matter where you live, the hot or cold protection will work. For protecting against the heat, an Inside patent-pending Chromium Thermal Barrier reflects more than 90 percent of the radiation generated by the sun to help prevent overheating in the sun and heat. 
This same barrier insulates your tablet or small laptop from the cold, which will extend its battery life.
If that's not enough, five layers of water-resistant materials and an iP66 water resistant rating keeps it somewhat safe from wet conditions. I'll say over and over  there's a big difference between water-resistant and water-proof.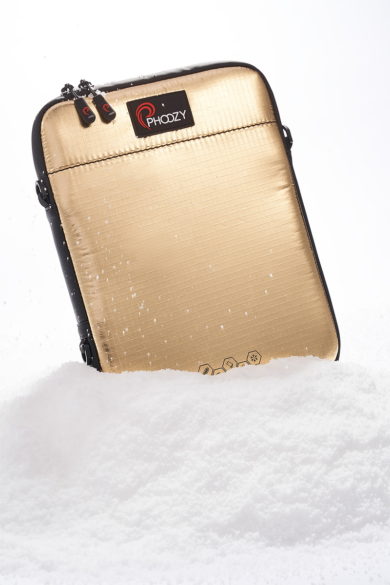 Being water-resistant (and floats with sink proof technology) the Phoozy will certainly protect your device from being water damaged if you're caught in a storm, a splash poolside or even a drop in water. If the latter happens you need to retrieve it right away if your device is inside. I'm not brave enough to test this feature, but Phoozy company representatives have assured me it has been tested.
Obviously the Phoozy has ton's of great features. But it has one key element, which people go for regardless of everything most anything other feature. It looks great. So it's a win-win to get a case, which looks great but has unique features.
Other features include HydroGuard two-way zipper with pulls, detachable shoulder strap, a cushion lined pockets and a pocket for an Apple Pencil or other stylus's.
The Phoozy is available in two sizes; iPad Capsule 11 inch ($59.99) for tablets up to 11 inches and the iPad/MacBook Capsule 13 inch ($69.99) for bigger tablets and other laptops up to 13 inches. Both have color choices of cosmic black, iridium silver, iridium gold and realtree timber