Gadgets :: October 30, 2019
by Gregg Ellman
(@greggellman)
It wasn't that long ago that you needed a big clunky projector with a complex setup to project a movie outdoors. But no longer with the Nebula's (a sub brand of Anker) Capsule Max, about the size of an oversized soda can and simple to set up. The small, portable projector can be a mainstay at your own home or dropped into your backpack to take to a friend's house for movie night.
The high quality 200 ANSI lumen portable will project up to a rectangular 100-Inch picture with what is described on the product website as projected vividly detailed HD image  with a 1280 x 720p resolution in a 16:9 aspect ratio.
After reading the instructions for the setup (I rarely do but felt is was a good idea on this one) everything is pretty straight forward. But there are a bunch of settings and choices during the setup and play modes, which you are clearly explained in the manual. Using a big sheet of white background paper as my screen, I was impressed with the quality and how quickly right out of the box I had the Capsule Max working.
The projector has 1 second autofocus and keystoning technology, which in nutshell gives you a sharp picture from any angle instantly. The keystone correction is listed as auto vertical and manual plus/minus 40-degrees and worked great. However, it's always a good idea to be as level as possible when setting up a projector. 
It's recommended you keep the distance between Nebula Capsule Max and the projection surface between 23 inches and 121 inches to get a projection image between 20 and 100 inches.
Android 8.1 is the operating system, which enables you to have access to streaming services such as Hulu, Netflix or YouTube. The instructions point out that copyrighted content from Hulu, Netflix, and similar services can't be mirrored or screencast. Instead just download and use the apps directly.
In addition, you can connect devices with digital content through USB or HDMI. I played a few TV shows from a USB flash drive and also stumbled across how easy it was to view photo albums. With WiFi (802.11b/g/n/ac) and Bluetooth 4.2 built-in, Airplay and other wireless connections and screen mirroring can be used.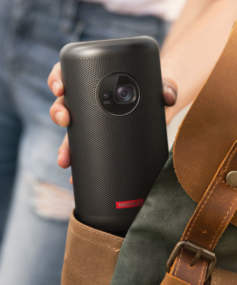 The free Nebula companion app (iOS and Android) gives you easy access to streaming services and lets you can control your selections or use the included wireless remote which has control for volume, selections, lets you navigate on screen menus and lets you easily access mouse key mode. 
The bottom has a tripod thread, which I did use since my tripod has a built-in level.
The rounded projector has the lens on the front and controls for powering it on or off, Bluetooth connections and input ports on the backside. Both the power and Bluetooth have LED indication lights. Volume, navigation and other controls are on the top.
Inside the Capsule Max is a great sounding 8 watt speaker, which can also be used as a standalone speaker in Bluetooth speaker mode.  If you prefer your own external speakers or headphones they can be connected with a 3.5 mm audio cable into the AUX port or via Bluetooth. The remote has quick and easy controls to enter Bluetooth speaker mode
You'll have about four hours of playtime from 9,700mAh 3.7V internal battery (a little less when using it on WiFi) and a power supply is included. The lamp should give you plenty of viewing with 30,000 hours of life.
www.seenebula.com $399.49