Gadgets :: March 11, 2020
by Gregg Ellman
(@greggellman)
Anker's brand new over-the-ear headphones, the Soundcore Life Q20, are packed with features at a reasonable price.
With over-the-head 9.3-ounces headphones, they can have the best sound in the world, but if they aren't comfortable, people will not wear them. The Q20's instantly passed my comfort test with memory foam ear cups and the headband, which has rotating joints to automatically adjust up to 90-degrees for a customized fit based on the shape of your head.
The headphones are packed with features including hybrid active noise cancellation and a user-friendly battery life of 60 hours of audio with the ANC off and 40 hours with it on. With the ANC on, the headphones can detect and essentially cancel a wide range of background noises with low and mid-frequencies including street noise, airplane engines, etc.
Anker technology in the headphones features Life Q20's certified Hi-Res Audio, delivering the music crystal clear with a natural sound from custom 40 mm dynamic drivers in each ear cup.
Giving it a boost of bass is easy with the BassUp Technology, defined as "a customized algorithm to perform real-time analysis on your music and intensify the low frequencies for hard-hitting beats" To activate, just double press the play button on the side of the ear.
The power button is on the ear cup and doubles for activating Bluetooth 5 to easily pair the headphones with your device and they also have built-in microphones for handsfree calls. Charging takes about three hours (microUSB) but you can use them wired with the included 3.5 mm AUX cable. A travel pouch is included.
www.soundcore.com $59.99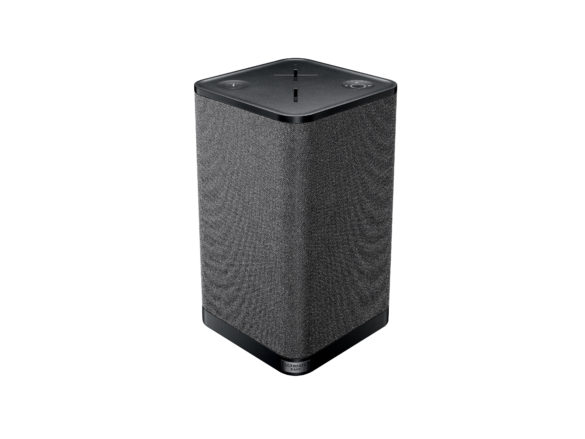 Ultimate Ears has launched the brand's biggest, loudest and bassiest speaker yet with the Hyperboom. 
With the booming bass, the party-happy speaker has a wide dynamic range that brings your music to life, rendering every note in rich detail, and a USB rechargeable 24-hour battery. Inside the speaker is adaptive EQ so it reads the environment and automatically adjusts the sound to fill any space.
The Hyperboom (14.33-by-7.5-by-7.5-inches) supports two Bluetooth, one 3.5 mm auxiliary and one optical audio connection to play music from your phones, laptop or gaming console, and switch between them with the press of a button.
It's built with a splash-proof PX4 rating and a built-in USB charge-out port will charge your smartphone. On-speaker controls allow you to play, pause and skip tracks and access playlists from Apple Music, Spotify for Android, Amazon Music and Deezer Premium.
www.ultimateears.com $399.99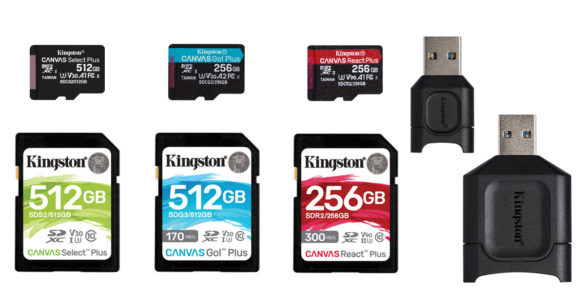 Kingston Digital Inc., has refreshed its Canvas series flash cards to Canvas Plus. The new SD and microSD lineup include Kingston's first UHS-II cards. 
To keep up with the transfer speeds, updates MobileLite Plus UHS-II readers will support the Canvas line of memory cards. The Canvas Plus SD and microSD memory cards are designed with increased performance for DSLRs, 4K/8K video production.
Canvas Plus offers three choices, Select Plus, Go! Plus, and React Plus for the latest high speed and large files, but they are also backwards compatible with UHS-I and conventional SD bus standards. 
Kingston's Canvas Select Plus SD and microSD cards store up to 512GB with class 10 speeds up to 100MB/s read.
The Canvas Go! Plus SD and microSD cards are Class 10 speeds up to 170MB/s read, 90MB/s write in capacities up to 512GB.
With the top of the line Canvas React Plus SD and microSD memory cards up to 256GB, you'll have a Class 10 card with speeds up to 300MB/s read, 260MB/s write with the SD card and 285MB/s read, 165MB/s write with the mircoSD.
The pocket-size plug-and-play MobileLite Plus readers have UHS-II speeds for faster file transfers and processing time. MobileLite Plus readers will be available on their own or part of a bundle.
Prices vary by card and capacity, the Canvas React Plus 256GB SD is $266.50, while the Canvas Select Plus 32GB card is $7.99. The MobileLite Plus USB reader is $10.01