GADGETS :: June 10, 2020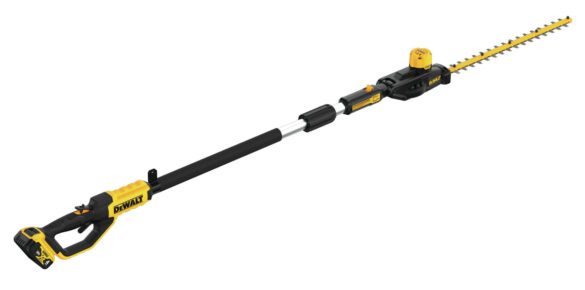 by Gregg Ellman
He doesn't need a tie, a T-shirt or a belt he'll never wear. What dad does need for  Father's Day is cool stuff like innovative tools for the grill and new tools for a perfect lawn.

DeWalt's new cordless tree trimmer and brush blower make some of the most basic home landscaping tasks so simple. The products are additions to DeWalts 200 product line in the 20V MAX System.
Since I knew the DeWalt 20V MAX Pole Hedge Trimmer ($199) would arrive in the coming weeks, I let some trimming grow a little over the last month for better testing. To say it was done quickly, easily and efficiently along with prefect shaping is an understatement.
Along with your arm length, the pole trimmer extends up to a 12-foot reach. So remember, this is for tree trimming, not tree removal.  Using it was a joy – just charge the battery and you're ready to go. 
Along with extending out, the trimmer has a seven-positing end, which acts like an elbow to positing the trimer in seven positions with a 180-degree range. This made it perfect for trimming the tops of hedges so the trimmings blended with the rounded look they have.
What used to take considerably more time I can now do in minutes and without a ladder. Having the DeWalt trimmer, with the flexible arm makes it so easy to adjust it to what I'm cutting or shaping at any angle. All my trimming was done from ground level, so I didn't need my wife watching so I wouldn't fall off the ladder. 
The rechargeable battery works off of the DeWalt DCB205 20 V MAX Lithium Ion Battery Pack and is compatible with DeWalt's 20V MAX tools. According to DeWalt, the trimmer features a high-output motor that can produce up to 2800 strokes per minute with its 22-inch hardened steel laser-cut blades, making fast, clean cuts. A 1-inch cutting gap works perfect for some thicker cuts.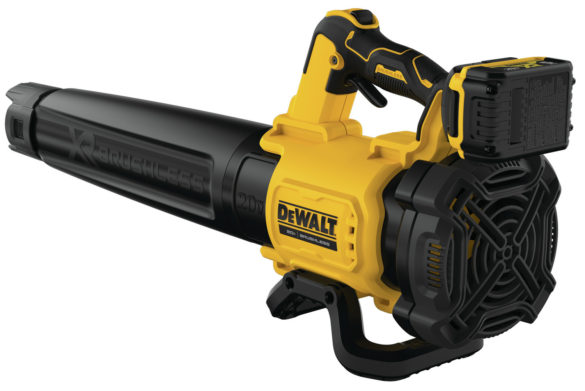 It can be stored fully extended or fold the trimmer down 180-degrees. A shoulder strap is included, which is handy when your working to control fatigue with the 7.9-pound trimmer and it also assists in storage.
 Along with the rechargeable battery, an AC desktop charger is included.
The DeWalt 20V MAX XR Brushless handheld blower ($199) raises the game from their previous model (DCBL720P1) working at 90MPH, to the new blower (DCBL722P1) hitting speeds of 125MPH with an output of up to 450 cubic feet per minute with the included concentrator nozzle.
The battery-operated tool clears your yard of debris as easy as walking around. The axial fan design maximizes air output and run time with a brushless motor. Carrying is easy with it's ergonomic designed and light weight (5.43-pounds).
The new blower has a variable speed trigger for control and a handy speed lock for easy and accurate control. Since the motor speed affects the noise level of the motor, it's nice to keep it at a low speed at times for an easy cleanup in near silence. But it is worth noting, even at full volume, the new blower has a low noise output maximum of 66 dB.
As for the battery life on both of these, after several test runs and charges, I've had no problem. The battery life is great but an extra battery is always good to purchase for bigger jobs.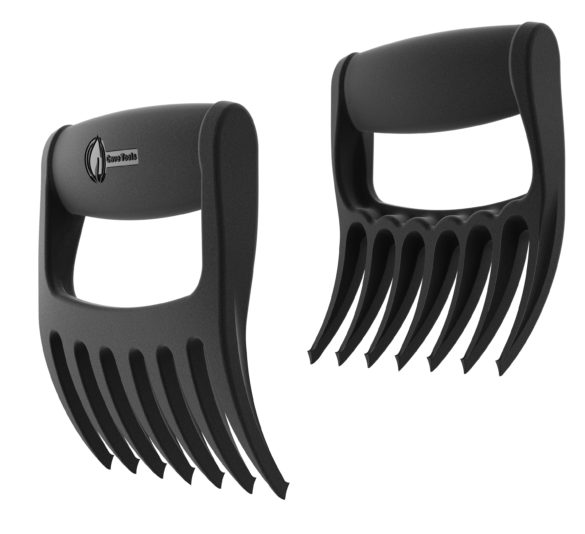 If your dad is like any in my family, the ideal gift is a great meal, which he prepares on his grill with a new cooking tool.
This year, Cave Tools, improved on an already great product with the updated Cave Tools Meat Claws, now made with an extra sevant BBQ fork to shred and carver for your grilling masterpiece.
The company was started in 2013 with the goal of creating superior barbecue and cooking tools backed by the best customer service in the industry. After dealing with them for several years, I can say first-hand they have achieved these goal.
The extra fork was designed so shredding meats like slow cooked pork can be done easer and with a thinner results from the seven hooked tips. While holding it, the claw is solid, more than twice the weight of every other model on the market so it feels really nice in your hands, according to Cave Tools. 
I know is worked with ease (full disclosure, my neighbor did the cooking and smoking) but I did the clawing. 
They are available in two colors, premium merlot and premium black for $14.99 each and are dishwasher safe.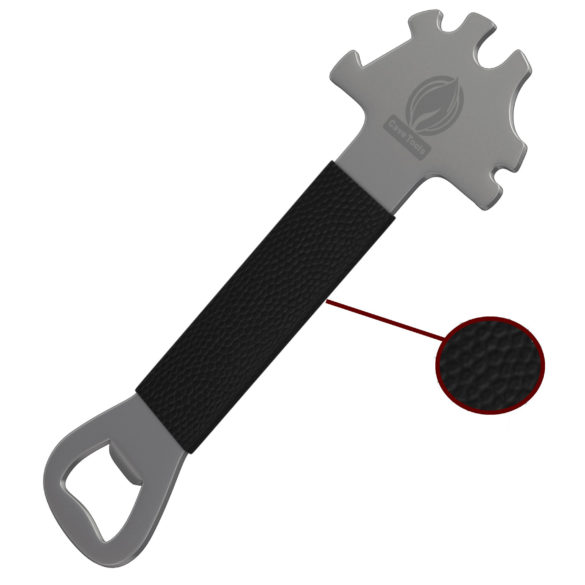 The Cave Tools stainless steel scraper certainly makes cleaning a grill easy.
The scraper has a handle in the middle to scrape grates for almost every grill on the market. Specially crafted grooves for scraping round, v shaped, or square grill smoker or oven grates are easily with easy from the pocked sized tool
As mentioned above, I put these new tools to the test while my neighbor was cooking and while waiting for the meal to finish cooking, I did make use of the grill scrapers bottle opener on the end of the grill tool. Someone had to stay cool with a cold refreshing beverage while the cooking was being done and obviously test out the functionality of the opener, which worked to perfection.
After a perfect scraping and cleaning of the grill, the Cave Tools stainless steel scraper, it dishwasher safe.
https://cavetools.com $9.99