HYPER® Introduces New HyperDrive® VIPER 10-in-2 Dual Video USB-C Hub for MacBook Pro/Air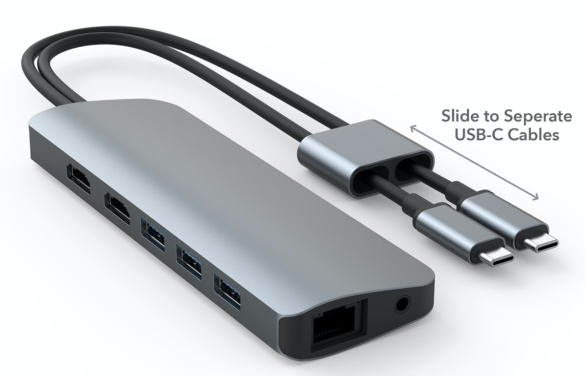 First-of-its-kind 10-port USB-C Hub with Built-in Dual USB-C Cables, Supports Dual 4K60Hz Video Output from MacBook Pro/Air. Also Works as a 9-in-1 Single Video Output USB-C Hub on any other USB-C device
Monday, October 5, 2020 – FREMONT, California: HYPER® by Sanho Corporation – creator of the world's first dedicated USB-C hubs for MacBook Pro and iPad Pro, today announces its latest USB-C Hub, the new HyperDrive VIPER 10-Port USB-C Hub.
The new HyperDrive VIPER with 2 x built-in USB-C cables, can turn a single USB-C port on any USB-C device into a 9-port hub, or connect to 2 x USB-C ports on the MacBook Pro/Air to become a 10-port docking station powerhouse.
Unlike other USB-C hubs, HyperDrive VIPER allows dual monitor 4K60Hz video output on both the MacBook Pro and MacBook Air. For devices that have a single USB-C port, the new USB-C hub can either function as a 9-in-1 USB-C hub or as a USB-C to HDMI adapter depending on which of the two USB-C cables is connected.
Available in MacBook-matching Silver and Space Gray aluminum enclosures, HyperDrive VIPER optimizes both ports and space with a compact and sleek USB-C hub to complement any of your devices.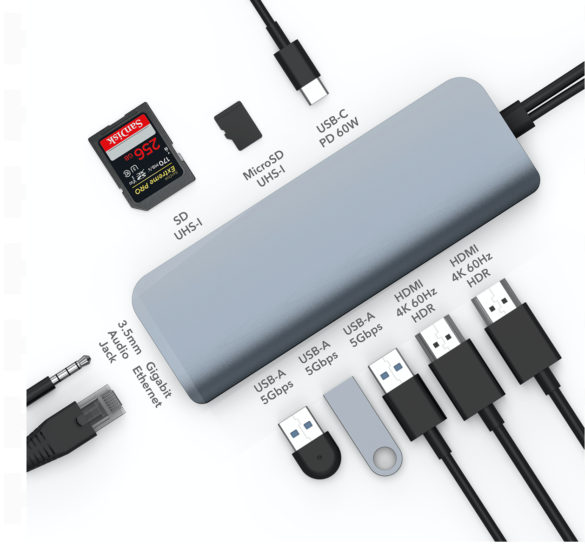 "HyperDrive VIPER is designed with the MacBook Pro/Air in mind to be a compact, powerful dual video output USB-C Hub, and yet retain the versatility to work with just about any other USB-C device," said Daniel Chin, CEO and founder of HYPER.
+ 10-port USB-C hub with 2 built-in USB-C connector cables
+ Connects to any USB-C device over 1 or 2 USB-C ports
+ Also works with two different USB-C devices
+ Turns a single USB-C port/device into 9 ports
+ Turns two USB-C ports into 10 ports
+ 10 Ports: 2 x HDMI 4K60Hz HDR High Dynamic Range, 3 x USB-A 5Gbps, Gigabit Ethernet, 3.5mm Audio Jack, MicroSD/SD UHS-I, and USB-C PD Power Delivery 60W
+ Designed for MacBook Pro & MacBook Air
+ Compatible with any USB-C device
+ Available in MacBook matching Silver and Space Gray aluminum enclosure
+ Dimensions: 143.6 x 48.7 x 15.64mm / 5.65" x 1.92" x 0.62"
+ Weight: 155.92 g / 5.5 oz / 0.34 lb.
Pricing & Availability:
HyperDrive® VIPER 10-in-2 Docking Station USB-C Hub is now available at HyperShop, Best Buy, B&H Photo, and other retailers for an MSRP of $119.99.
About HYPER by Sanho Corporation:
Celebrating our 15th year in business in 2020, HYPER by Sanho Corporation is a dynamic team headquartered in Silicon Valley, California with offices in Shenzhen, Singapore, and the Netherlands. We specialize in delivering award-winning, cutting edge IT, and mobile accessories with a focus on Apple, portable power, data storage, and connectivity products. HYPER is guided by its promise of GET MORE. Delivering more ports, more power, and more connectivity, which in turn delivers more quality time with family and friends, more experiences, and more memories to every HYPER customer around the world.