GADGETS by Gregg Ellman :: February 10, 2021
In this issue :: Petcube Cam and a Bluetooth Heart Rate Monitor.
Scosche, a leading innovator of consumer electronic technology products, has  announced the Rhythm + 2.0 Bluetooth armband heart rate monitor to supply critical heart rate data.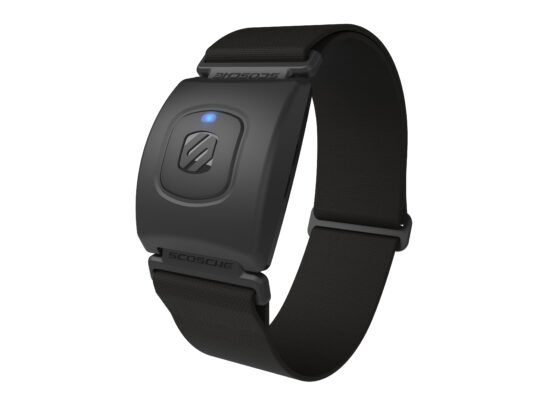 Scosche touts it as accurate as a chest strap monitor, but more comfortable and convenient to wear for daily chores or active lifestyle activities. The waterproof armband is built with Valencell's PerformTek biometric sensor technology, the only continuous heart rate monitoring technology. When worn it measures blood flow and body movement.
Scosche recommends wearing it on the biceps, triceps, or upper forearm. The band is comfortable, stretchable , and washable. After a few minutes on a recent bike ride, the comfort was perfect, I didn't even know it was there and it never slid out of place during a 15-mile ride.
The Rhythm + 2.0 dual-mode radio transmits to ANT+ and Bluetooth devices (100-foot  wireless range) for easy pairing with sport and smartwatches, smartphones and other devices. This allows it to seamlessly work with compatible fitness apps, and accessories.  With built-in optical sensor technology, it utilizes green and yellow LEDs to measure blood flow for a highly accurate reading for all skin tones. 
The Rhythm + 2.0 is built with an IP68 dustproof, sweatproof, and waterproof submersible up to three meters making it ideal for any workout activity. The included charger keeps it running for up to 24 hours between charges. A charging/carrying/storage case can be purchased separately.
www.scosche.com $79.99 with availability this spring
If your are like me and many other neurotic pet owners who want to look at your fluffy ball of joy while you're away from the house, the Petcube Cam is the solution.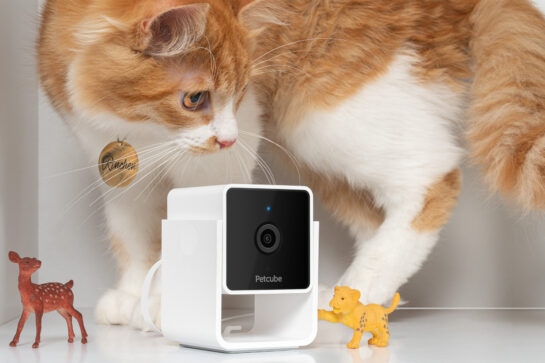 The well-built and compact home security camera (2.39-by-2.13-by-3.22-inches) provides full HD live streaming video. It's the first know pet camera with Vet Chat, which is built-in for consultations with Fuzzy Pet Health veterinarians 24/7 through the Petcube app (iOS and Android). Your first Vet Chat consultation is free, then $4.99 monthly thereafter.
The camera is built with a 110-degree wide-angle lens featuring an 8X zoom and the body is pet-proof with its high-quality hard plastic construction. When it gets dark the camera will automatically switch to night vision for viewing up to 30-feet away.
With two-way audio, your pet can hear your voice if they are about to get in trouble or you just want a little conversation. The captured HD video is saved for four hours or can be downloaded and saved to a smartphone. A storage subscription is available for $5.99 month or $3.99 a month with a year subscription.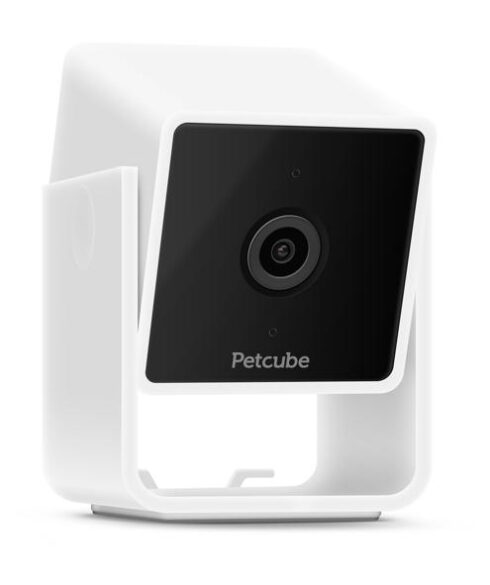 Setting the Petcube takes a minute using your existing 2.4GHz Wi-Fi. A unique rotating mount allows it to attach to a matching magnetic area for use on floors, walls, under cabinets, or ceilings. Once a free account is made on the Petcube Cam app, it can be securely shared with friends or family by sending them a secure invitation. Up to six cameras can be connected on a single account and the Petcube also works with Alexa.
For what it is, the setup is simple and operations are fine. It's a basic but durable home security camera with pet features. I was all excited to catch my dogs doing something worth watching while I was away from the house, but much to my disappointment they pretty much sleep all day. With the two-way audio I managed to wake them up, but after they gave me a few confused looks, the sleeping resumed.
I didn't need the communication with our vet, but it's comforting to know in an emergency it's there.
Incident recordings are triggered by sound and motion detection. The captured 30-second video clips are stored securely in the cloud, which is protected by 256-bit AES encryption. Real-time notifications can be set up with the Petcube app and audio recognition can detect the difference between people and pets and pet sounds.
https://petcube.com $39.99
by Gregg Ellman
(@greggellman)