Fujifilm Introduces the INSTAX Link Wide™ Smartphone Printer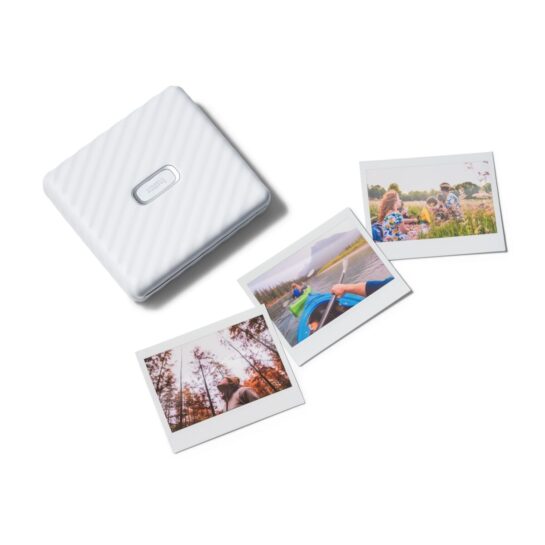 Taking Smartphone Image Printing to New Widths: 
Valhalla, N.Y., October 13, 2021 – FUJIFILM North America Corporation announces the much-anticipated launch of its INSTAX Link Wide™ Smartphone Printer (Link Wide), the latest in the INSTAX line-up of instant printing devices. Built to complement the successful INSTAX Mini Link™ Smartphone Printer introduced in 2019, Link Wide creates the ability to print images in a large format, on INSTAX Wide instant film, a first for the brand's Smartphone printer category. 
"This product came to life thanks in part to tremendous positive feedback from our INSTAX community," said Manny Almeida, division president, Imaging Division, FUJIFILM North America Corporation. "After enjoying all the image printing capabilities available from their INSTAX Mini Link Smartphone Printers, so many of our consumers reached out, enthusiastically requesting an INSTAX Wide photo print option as well, in order to print their Smartphone or digital camera images on a larger scale. With its updated features and ease-of-use, we're confident that Link Wide will delight our consumer base while satisfying their desire for a wide option for printing their images." 
Link Wide creates high-quality, wide INSTAX instant prints from the photo roll on a Smartphone via the free INSTAX Link Wide App (required for full functionality)*1, connecting with the printer via Bluetooth*2. The App provides users with a variety of fun and creative features and options in printing their Smartphone images, and Bluetooth allows a quick and seamless transfer from the phone to the Link Wide printer. In addition to Smartphone compatibility, Link Wide is also compatible with the FUJIFILM X-S10 mirrorless digital camera, allowing photographers to send their images directly from the camera to the Link Wide printer. 
The main features of Link Wide include: 
Lightweight Design Built for Portability and Speed 
Surpassing the functionality offered by other Smartphone printers in its class, the lightweight, handheld Link Wide transfers an image and starts the print in about 12 seconds, supports continuous printing, and is capable of generating about 100 INSTAX instant prints per battery charge. Link Wide provides two printing modes; INSTAX Rich, accentuating deep, warm colors, and INSTAX Natural, which emphasizes the inherent tones of the image. 
Dedicated Link Wide App designed for intuitive operability 
The Link Wide App has been designed for ease-of-use with a variety of useful image printing options. The App features editing tools including cropping, approximately 30 filters, collage capabilities, adding text to the printed image, as well as digital stickers and frame templates. Additional App features include: 
● Sketch, Edit & Print – import sketches and handwritten text, add them to photos, add sticker icons, and print. 
● Printing photos from videos – select a frame within a video and print it. 
● QR Print Mode: add a QR code to scan with a Smartphone to your photo, with the ability to: ● Record sound 
● Link to a website 
● Tag your location on the print 
● Record a hidden message 
New Film Variety Available 
Also accompanying the launch of Link Wide is the new INSTAX Wide Black instant film, a new contrast on the traditional white-bordered look. The stylish black border provides eye-catching contrast against the printed images. INSTAX Wide Black instant film will be available in a single pack with 10 exposures. 
Pricing and Availability 
The INSTAX Link Wide Smartphone Printer is available in two colors, Ash White and Mocha Gray, and is expected to be available for purchase in late October 2021 at a 
manufacturer's suggested retail price of $149.95 USD and $189.99 CAD. INSTAX Wide Black instant film will be available for purchase in late October 2021 at a manufacturer's suggested retail price of $21.99 USD and $14.99 CAD. 
For more information about Link Wide, visit https://www.instaxus.com/products/instax-link-wide/. 
*1: A free app compatible with Android phones and iPhones. It can be downloaded from Google Play in the case of Android phones and App Store for iPhones. Android and Google Play are trademarks or registered trademarks of Google Inc. iPhone and App Store are trademarks of Apple Inc. 
*2: Bluetooth® work mark and logo are registered trademarks of Bluetooth SIG, Inc., used under license. 
About Fujifilm 
FUJIFILM North America Corporation, a marketing subsidiary of FUJIFILM Holdings America Corporation, consists of five operating divisions and one subsidiary company. The Imaging Division provides consumer and commercial photographic products and services, including: photographic paper; digital printing equipment, along with service and support; personalized photo products; film; one-time-use cameras; and the popular INSTAX® line of instant cameras and accessories. The Electronic Imaging Division markets consumer digital cameras, lenses, and content creation solutions, and the Graphic Systems Division supplies products and services to the graphic printing industry. The Optical Devices Division provides optical lenses for the broadcast, cinematography, closed circuit television, videography and industrial markets, and also markets binoculars and other optical imaging solutions. The Industrial and Corporate New Business Development Division delivers new products derived from Fujifilm technologies. FUJIFILM Canada Inc. sells and markets a range of FUJIFILM products and services in Canada. 
For more information, please visit https://www.fujifilm.com/us/en/about/region, go to https://www.twitter.com/fujifilmus to follow Fujifilm on Twitter, or go to https://www.facebook.com/FujifilmNorthAmerica to Like Fujifilm on Facebook. 
FUJIFILM Holdings Corporation, Tokyo, Japan, brings cutting edge solutions to a broad range of global industries by leveraging its depth of knowledge and fundamental 
technologies developed in its relentless pursuit of innovation. Its proprietary core technologies contribute to the various fields including healthcare, highly functional materials, document solutions and imaging products. These products and services are based on its extensive portfolio of chemical, mechanical, optical, electronic and imaging technologies. For the year ended March 31, 2021, the company had global revenues of $21 billion, at an exchange rate of 106 yen to the dollar. Fujifilm is committed to responsible environmental stewardship and good corporate citizenship. For more information, please visit: https://www.fujifilmholdings.com 
All product and company names herein may be trademarks of their registered owners.