GADGETS by Gregg Ellman :: November 10, 2021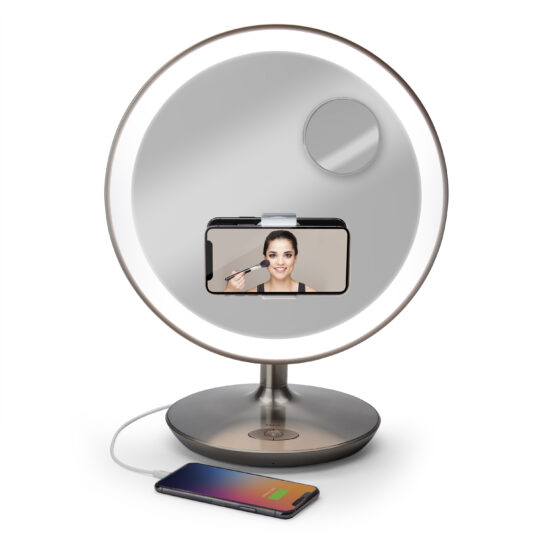 iHome's Beauty Glow Ring XL oversized rechargeable vanity speaker mirror is a thing of beauty and assists in getting people made up for the day. The vanitytop mirror is an oversized 13-inch home beauty ring, loaded with technology features to make the whole experience enjoyable.
The USB charging mirror is built with full-spectrum lighting up to 1,000 LUX of light, with four levels of brightness, and three clear true color lighting modes. No matter where you  sit, the mirror adjusts to any angle. The three dimmable hue adjustments are: bright daylight, soft, and warm evening modes. A removable 1X magnification 3-inch detail mirror is included for applying or adjusting finer details.
A built-in USB charging port gives the internal battery up to 19 hours of use and for the mornings where time isn't on your side, the power-waving timer will be your best friend, powering the iHome Beauty Glow Ring XL off after 25 minutes.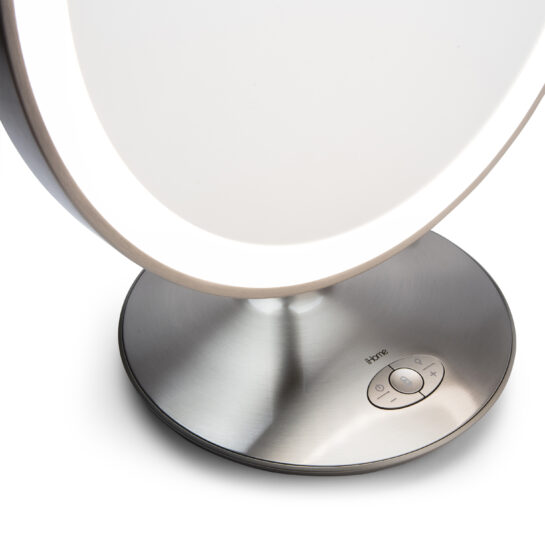 One-touch controls on the base activate Siri and Google Assistant voice assistants, which is perfect for finding morning playlists and getting the days' weather forecast while not missing a beat on the makeup process.
A removable mount lets your smartphone face you for reading messages, FaceTime chats with friends or makeup tutorials.
The cord-free design of the iHome Beauty Glow Ring XL makes it easily portable to take into any room, on trips or just store it in a closet if you don't want it hanging on the countertop 24/7.
The 5W built-in speaker connects to a smartphone via Bluetooth for streaming so it can work as a hands-free speakerphone, broadcast music or calls, and has Apple audio caller ID.
So how did it work? Well, it wasn't much use to me; the closer I got to, the more intimidating it became so I enlisted my wife to test it for a makeup session. Before I even asked how it was while walking into the bathroom, she uttered "this is incredible."
She didn't chat on the phone but did seem to keep up with text messages, all hands-free with the help of Siri. Upon completion, with her glowing review on top of glowing results, she showed the comparison of her older mirror (I'd say about 8-inches) compared to what she calls her new mirror, the iHome Beauty Glow Ring XL.
Enough said. Happy wife, good enough for me.
www.ihomeaudio.com $199.99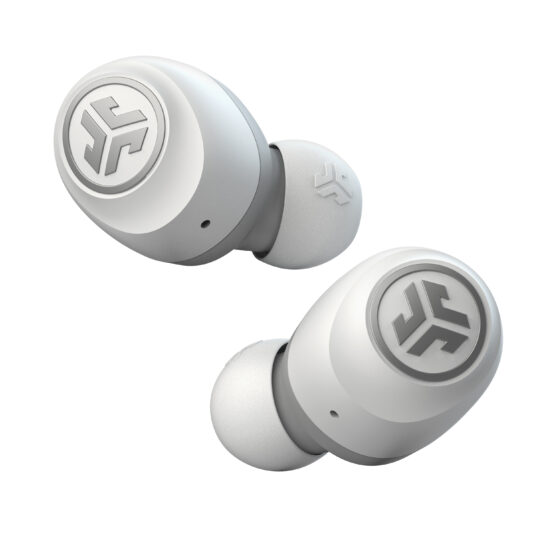 It's one thing to have a budget-friendly price, but it's another to have the price along with good performance. That's what you get with the JLab Audio GO Air True Wireless earbuds.
While true wireless earbuds have been around for a few years, they are still new to some users. With true wireless, you get exactly that; two individual wireless earbuds, each broadcasting audio received via Bluetooth.
The JLab Audio GO Air True Wireless earbuds have been around for a little while, but when they were brought to my attention, the price got my attention. People want true wireless but not the high prices many of them cost.
So I needed to know, for $29.99, do they work? Yes, they do. And well. I'd even say exactly as they are described by parent company JLab Audio as "clean, crisp, audio."

But don't think you are getting $300 sound and features, instead, you're getting a solid pair of true wireless. Sound, which I'll describe as good and clear, has nothing to disappoint the average user. Think of these as a great first pair for young kids or to have a pair exclusively for exercise. 
Go Air earbuds are lightweight and have touch controls for music selections, play, pause, and volume, which take a few minutes to figure out. 
Other built-in features include dual connect, incorporating dual microphones, which allows each to be used independently for a hands-free call while the other is in the charging case. Voice assistants can also be activated.
The earbuds have an IP44 sweat resistance rating. They hold a five-hour charge and the case is good for another 15 hours.
www.jlab.com  available in black, white, red, teal, navy blue, and army green
by Gregg Ellman
(@greggellman)