Grab Your Gear – November 2021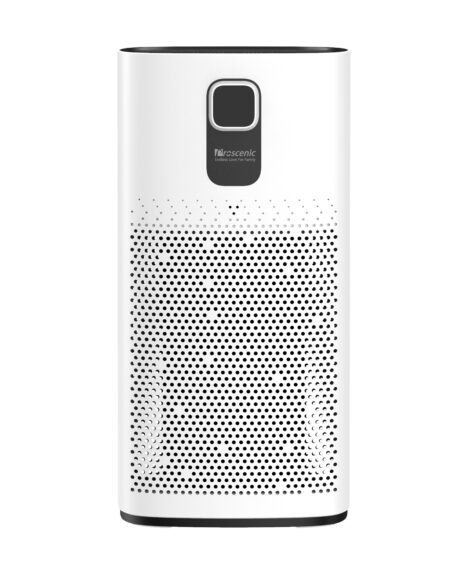 The Proscenic A9 Air Purifier is one of those appliances you don't think you need, but you do. Having clean, filtered, and allergy-free air is nothing but a good thing. The A9 is built with multiple filtration systems and is perfect for home use, especially with home hours extending with the work-from-home movement.
An air quality smart sensor inspects the PM2.5 air index in real-time. Not knowing what a PM2.5 air index is, a quick Google search told me 'it refers to atmospheric particulate matter that has a diameter of fewer than 2.5 micrometers, which is about 3 percent the diameter of a human hair.'
A front side LCD panel displays the PM2.5 readings along with a reminder when the internal filter needs to be replaced and a Wi-Fi indicator. Small backlit buttons to control turning it on or off, speed, child locks, and a timer are on the top. 
And of course, there's an app for full functionality, which includes the speed, times and, sleep mode. It even reminds you via Alexa or Google Home when the filter needs to be changed.
It's AC-powered and built to sit on the floor (10.23-by-10.23-by-20.4-inches, 14.11 pounds). Air is pulled in through small holes on the front and then sends the filtered air out through air vents on the top. A high-performance motor circulates and sends out the air to ceiling levels.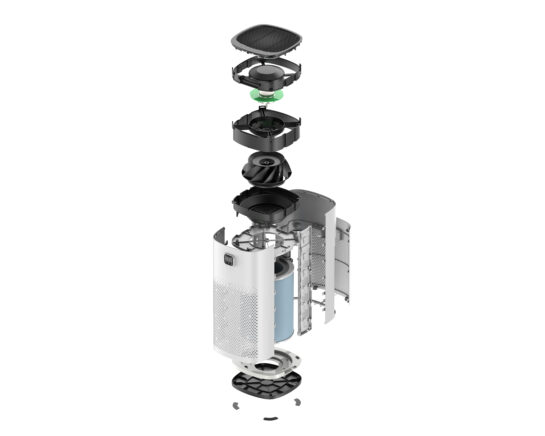 Setting it up takes seconds. The filter's plastic covering has to be removed and then put the filter back inside the body of the A9. A back panel with magnets snaps right back in place. All you have to do from there is plug in the power cord and hit the power button. With four speeds, it gets a little louder with each speed, but keeping it at automatic seems to be the way to go when I was home and putting it on the timer with the high speed when I wasn't.
A blue standard 4-in-1 enhance filter is included and is good for around 3000 hours. Replacements are $59.99. Four other available filters include an H13 true HEPA filter, an antibacterial filter, a pet allergy filter, and a toxin absorber filter for $49.99 each.
After a few minutes, the air quality of my office (which often has windows open and pets visiting me) displayed a 12 along with a green color-coded indicator. According to the user manual that is good quality air. A yellow indicator indicates moderate air, orange is unhealthy for sensitive groups and red is unhealthy. 
Proscenia states the A9 air purifier works in areas up to 592 square feet (circulating the indoor air 5 times per hour) capturing 99.97 percent of airborne allergens. The HDOF purifying technology with 4 stages filtration, which contains primary filter, H13 HEPA, activated carbon, and nano-silver ions, adsorbing 99.97% of fine particles and allergens as small as 0.3 microns and even larger pollutants such as dust, pet dander, smoke, mold, and pollen.
The Proscenic A9 Air Purifier is essentially a plug-and-play appliance. Plug it in, turn it on auto or speed mode, and you're done.
www.proscenic.com $179.99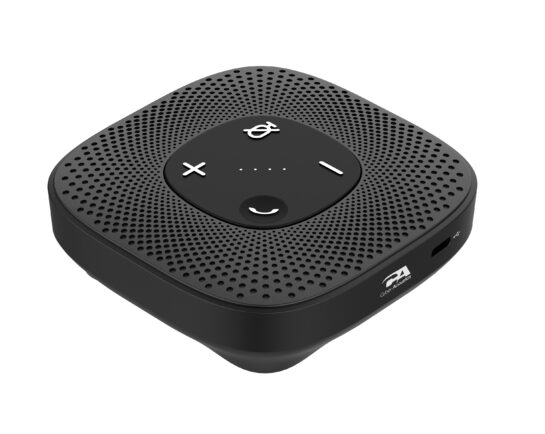 Cyber Acoustics Essential Speakerphone SP-2000 is perfect for any work from home office to improve audio on audio or video calls, compared to using a computer's built-in microphone.
The desktop speakerphone is another underestimated gadget on the usefulness and efficiency if can provide, but after using it once, it's an obvious necessity. It connects in seconds with USB to computers or Bluetooth with smartphones. Inside is a built-in 360-degree noise-cancelling microphone, with a 3-meter range. The rechargeable (USB-C, cable included) battery provides up to 12 hours of talk time.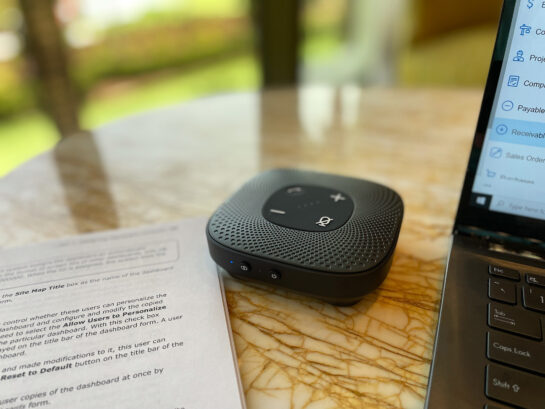 The Essential Speakerphone SP-2000 is built with smart voice enhancement technology and reduced ambient noise technology. All this adds up to crystal clear audio, which was confirmed by several test callers in both audio calls and zoom meetings. In addition, none of my test callers could say if I was on speakerphone or directly into my iPhone. 
Incoming audio was crystal clear as well. Topside buttons control answering or ending calls, volume, and the ever-important mute button.
www.cyberacoustics.com $69.99
by Michael Phillips