Grab Your Gear – October 2021

Breaker 1-9.
It's a cliche but I had to say it after using the Cobra HH50 (HH50WXST) handheld CB radio, which was my first CB radio usage in quite some time.
While cellular technology has made CB radios kind of obsolete, there's still a use for the license-free Citizens Band radio 2-way voice communication system, especially while highway driving, camping, hiking, or just from home.
It was fun using the CB radio for listing to truckers, who regularly talk on them for traffic alerts, speed traps, and weather conditions along with just generic chatter. Fortunately, while tuned to the emergency and weather channels there was nothing significant to hear, but the channels are a benefit to have. 
The dual watch feature allows you to set two for monitoring. Or just have it scanning all 40 CB channels.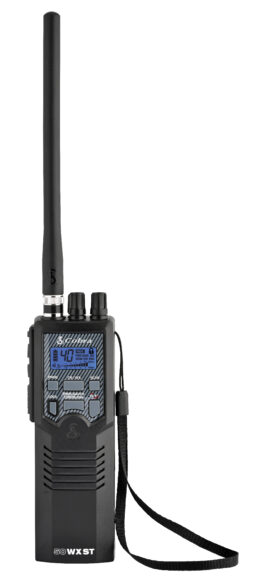 Emergencies are a great feature to be alerted to, especially in areas where cell phone service isn't available. CB's have an average range of up to four miles, depending on the geographic terrain, making it likely (but not guaranteed) that a trucker or other CB users will be within communication range.
The handheld radio, built with a rugged, portable design is 7.25-by-2.25-by-1.75-inches, with an 8-inch removable and bendable antenna. It works off of nine AA-Alkaline or rechargeable NiMH batteries (not included) to pick up all 40 available CB and 10 weather channels. A High/low power saver button reduces the battery consumption by up to 75 percent. A 12V automotive charging cord is included.
Your voice is picked up from the omnidirectional microphone. A small illuminated display shows the channel and other information, which was all easy to see in day or night time. A 3.5mm port allows using your external speaker or microphone.
With the iRadar app, Cobra reports one hundred million alerts have been shared and received each year from Cobra drivers.
And it's only $89.95.
Fauna designer audio eyewear combines Bluetooth 5.0 audio along with optional vision correction into the eye-catching and great-sounding glasses.
Built into the arms of the frame of the smart glasses are speakers with directional sound, which only goes to your ears, with just a little bleed over to the outside surroundings depending on the volume level. You're not going to get surround sound or headbanging party sound, but you do get isolated crystal clear sound from the four discrete USound micro-speakers.
While the audio was playing after pairing with a smartphone _ since they aren't earbuds stuck in your ears to block out any outside noise _ the audio eyewear allows you to hear in your surroundings. The glasses come with a charging case for about four hours of music time before a charge is needed.
The eyewear is also perfect for hands-free phone calls with two microphones built-in and touch controls to answer or end the calls, volume, and accessing voice assistants. All while never touching your phone. I asked several callers how they received my audio and they all heard me loud and clear
And don't, worry if you get caught in a rain shower, the smart glasses are water and dust resistant with an IP52 rating, enabling them to withstand drops of water and as you can expect the music goes on enabling you to sing in the rain.
The included lenses are Zeiss DuraVision BlueProtect. My review pair, Spiro Transparent Brown, are listed to protect eyes from UBA and UVB rays. As for wearing them as just sunglasses, I'm not an eyewear expert but they worked just fine. 
My first day of wearing the Fauna audio eyewear included driving, biking, and dog walking. The only time I didn't enjoy the music playing was when I needed a charge but I did get more than the four hours advertised.
For those needing prescription lenses, according to Fauna, the included lenses can be changed out for prescription lenses by an optician as the frames are made of natural acetate which can be heated and fitted by a professional.
All in all, the Fauna audio eyewear worked and sounded great. Don't expect the audio to replace other high-end audio headphones or speakers. These are set out to provide convenient audio, which it does a great job of. I look forward to using them in the summer, wearing and hearing the Fauna eyewear poolside.
They sell for $199 and are available in Fabula Crystal Brown, Levia Black, Memor Havana, and Sprio Transparent Brown.
by Michael Phillips