Rise Above Research :: Heavy Photo Printers: Show Me the Money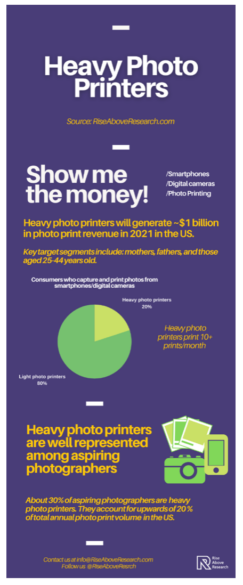 Boston, MA  – September 7, 2021 – The traditional photo print market has been in decline over the last several years, but it is still a large market that presents good opportunities. Studies by Rise Above Research show that to the majority of people still print photos, and many enjoy saving prints in photo albums, displaying them in their home, or  giving them to family and friends. 
Heavy photo printers, those who make more than 10 prints a month on average, are a sweet spot for the print industry. While they make up a small percentage of overall consumers, they generate a major portion of overall print volume and are very important to the future of photo printing. Key target segments among the heavy printers are mothers who shoot with their smartphones, fathers who shoot with digital cameras, and those aged 25-44 years old.
"Vendors and retailers who offer photo prints will be happy to learn that heavy photo printers are forecasted to spend almost $1 billion on photo prints this year in the US," says David Haueter, founder of Rise Above Research. "In addition, we have found that almost 30% of "aspiring photographers" are heavy photo printers," adds Haueter.
Rise Above Research defines aspiring photographers as people who have a passion for photography and want to take their skills to the next level. The combination of heavy photo printers and aspiring photographers will account for upwards of 20% of total annual photo print volume in the US. 
You can read more about the heavy photo printers in the Rise Above Research Heavy Photo Printers: Key Target Segments report, and check out our Reports page to see the full breadth of research available. 
About Rise Above Research, LLC
Rise Above Research, LLC is an independent market intelligence and strategic consulting firm that supports industry vendors, service providers, and retailers with actionable intelligence to assist them in making effective decisions in fast-paced digital photography and imaging markets. Established in 2020 by industry veterans Ed Lee and David Haueter, Rise Above Research has extensive experience providing groundbreaking market research and strategic consulting for the digital imaging industry. 
###
For additional information, visit our website or contact:
David Haueter, Director and Founder