GADGETS by Gregg Ellman :: September 8, 2021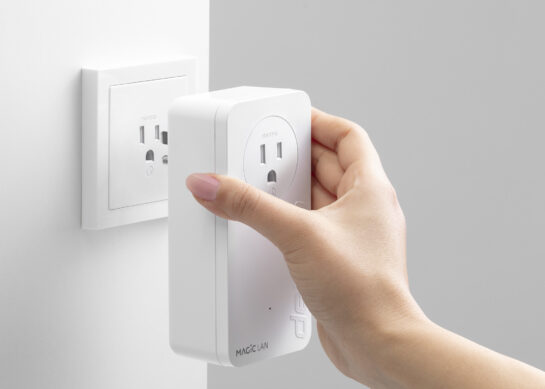 As far as home Wi-Fi and Internet, there's probably only one thing worse than a bad signal, and dead zones, and that's having no service at all. And we have all been there without an easy fix.
This is where the German-made Devolo Magic 2 plug and play power outlet adapter turns AC power outlets into a Wi-Fi access point and a source to transmit the data for internet access points around the house, helping dead zones and many other Wi-Fi problems. Once it's up and running, the Internet is sent around the house, top and bottom floors through the existing electrical wiring. Large offices and small houses can all have this issue, which can be caused by thick walls or other features that obstruct the wireless signal.
Devolo rates the Magic 2 Wi-Fi to reach transmission speeds up to 2000 Mbps, but that can vary depending on the Internet service brought into the structure and other factors such as the age and condition of the power outlets and power lines connecting them. Devolo states accurately on their site, "Network conditions and environmental factors, including volume of network traffic, building material and construction, and network overhead, result in lower actual data throughput rate."
The range of the Magic 2 Wi-Fi with future-proofed G.hn Wave 2 standard is up to 1600 feet, has connections with 2.4 GHz + 5 GHz with standards of Wi-Fi 802.11 a/b/g/n/ac/k/r/v/.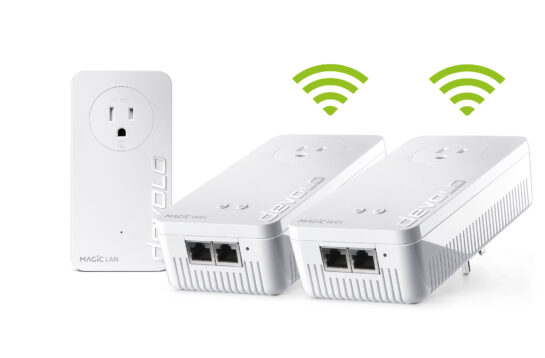 The Magic 2 Wi-Fi starts with a single Gigabit LAN port (5.12-by-2.6-1.57-inches), which is connected to your existing router.  The other piece in the kit (you can add more if needed) of The Magic 2 is a 5.98-by-2.99-by-1.57-inches two Gigabit LAN port which also plugs directly into any household AC power outlet.
Setting it up is simple, but make sure to follow the instructions for pushing the buttons in the right order to make the connection. The buttons on the Magic 2 include WLAN for Wi-Fi on/off, a home button for the powerline connection, and a reset to reboot and reset the settings. The built-in gigabit ports can be used for direct wired connections to compatible devices.
Once the setup is complete with the built-in Access Point Steering, regardless of what room you're in, you'll be connected to the strongest signal available.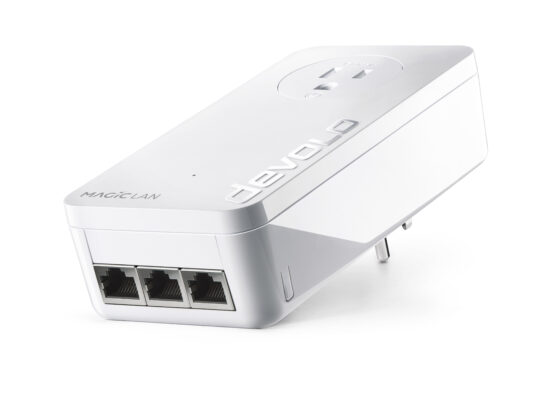 It's easy to read speed tests and report numbers. But when I tell people those numbers, often it means nothing. Most people at home just want to know their streaming is working and not buffering, which to me is the perfect test. So with everything connected, I connected to my original Wi-Fi with my iPad streaming YouTubeTV.  Once I got to a distance where buffering was an issue, I set up a Magic 2 directly in the middle. To make sure I was on the proper access point I deleted the original home network from my choices, making it easy to select the right one. Once I was connected to the newer Magic 2 access point my connection didn't buffer, bringing an instant solution to my backyard Wi-Fi needs.
The Magic 2 system has other customizable features such as Guest Wi-Fi, parent controls, setting schedules, and airtime fairness. The Devolo Home Network App (Apple and Android) works well for setting up, controlling your network and the customized features. Each piece is built with a passthrough power outlet to replace the one the Magic 2 is taking up in the wall. 
The Magic 2 is available as a starter kit ($184.99) with single port for router connection and a two Gigabit LAN port to extend the Wi-Fi range. The whole home kit ($299.99) adds another two Gigabit LAN port for additional coverage. If additional plug-in ports are needed, the Magic 2 triple ($84.99) has three ports for a direct plug-in Internet connection.
by Gregg Ellman
(@greggellman)