Posts Tagged 'Datacolor'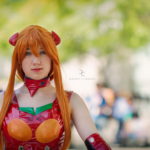 Tweet Article and Images by David J. Crewe Comic Con is a fantastic place for a creative portrait photographer. There's so much variety and color in the settings and the people's costumes, that you never run out of...
Read more
Tweet Lawrenceville, NJ – (February 11, 2019) – Datacolor®, a global leader in color management solutions, has launched SpyderX, its fastest, most accurate and easiest to use color calibration tool for monitors. The development of SpyderX is testament to...
Read more